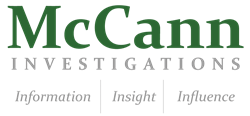 Without the best technology available, you can only have so much success as a private investigator.
Houston, TX (PRWEB) February 24, 2014
McCann Investigations, a Texas-based firm that specializes in private investigations and digital security, is now Houston's leading firm in the use of video recording technology for private investigations.
McCann's Houston private investigators handle a wide variety of cases, including domestic issues, extortion, embezzlement and other personal or business matters. The company's full range of cutting-edge covert surveillance and remote viewing technologies give it a significant advantage in its operations and help to ensure that the alleged perpetrator in a case will be caught in the act.
"Without the best technology available, you can only have so much success as a private investigator," said Daniel Weiss, Managing Partner at McCann Investigations. "We are committed to providing the best possible service to our clients, and a big part of that is using all of the latest technology at our disposal to find positive outcomes in every case we take on."
An important part of any traditional private investigation and surveillance effort is the recording gear used by the investigator. McCann's Houston private investigations team has access to hi-tech covert recording and night-time recording equipment that help to uncover wrongdoing even when lack of visibility is an issue.
In addition to this recording equipment, McCann investigators also utilize a wide range of digital tools to help comb through emails, social media accounts, bank accounts and other online information to find evidence of guilt. Guilty parties often leave a digital trace of their actions that skilled private investigators can uncover with a thorough search.
"We are pleased to be able to offer these hi-tech services to the Houston market," said Weiss. "Our video recording equipment gives us an edge over both the competition and the perpetrator."
For more information about the services provided by McCann Investigations in the Houston area, visit the company's website at http://www.mccanninvestigations.com and follow the company on Twitter at @mccangi.
About McCann Investigations
McCann Investigations is a Texas-based private investigations practice focused on comprehensive investigations incorporating digital forensics, surveillance, undercover work and background checks for clients in various case types. Service areas include intellectual property theft, non-compete enforcement, fraud, embezzlement and family law. McCann Investigators are experts in the latest computer forensics tools and are licensed with the state of Texas. McCann examiners have provided expert testimony and reporting in hundreds of cases across the state.