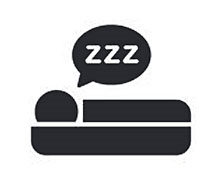 Portland, OR (PRWEB) March 04, 2014
Sleep is one of the single most important activities a person can do to influence health and wellness. A lack of rest or poor quality sleep can affect mental clarity and physical performance, and longer-term sleep deprivation has also been associated with numerous health issues from diabetes to heart disease. Given the necessity of rest, a considerable industry has sprang up comprising of pharmaceuticals, supplements, mattresses and other products claiming to offer sweeter dreams.
To test consumer habits and the effectiveness of some of these remedies, product review publication Consumer Reports conducted surveys of subscribers and at the national level, which was published in late 2012. In order to highlight some of these findings and contrast them with other studies, blog Consumer Mattress Reports (CMR) recently reviewed the original survey results in an article published on March 3, titled "Consumer Reports Surveys Sleep Habits".
In the article, CMR explains the background and details of Consumer Reports' surveys, along with the findings regarding sleep habits and problems and the effectiveness of various medical and alternative treatments. Around 60% of all respondents reported some type of difficulty with sleep three or more days per week, highlighting the broad scope of the issue. Other more specific statistics and frequencies are also discussed.
As a consumer product magazine, the original intent of Consumer Reports' surveys was to assess the performance of remedies. CMR explains the results of the survey for each category of treatment including prescription medications, over-the-counter medications, and supplements, as well as alternative options like exercise, yoga and meditation. While prescriptions were found most helpful by respondents, over the counter options and a few alternative treatments also proved helpful for a significant proportion of people.
Offering a counterpoint to Consumer Reports' findings, the blog also includes information from Sleep Like The Dead, Web MD, as well as two university studies which show some correlations and divergences from the original survey. CMR concludes their review by summarizing habits of good sleepers and Consumer Reports' recommended steps for improving rest. The website also hosts several informative mattress articles and comparisons for interested readers.
Consumer Mattress Reports is an online magazine specializing in all things to do with beds and sleep. The easy-to-read blog design offers an inviting format for readers, with well-researched, expert articles on mattress ratings and brands. In addition to reviews and comparisons, the website also covers the latest mattress news and offers helpful shopping information geared towards shoppers.