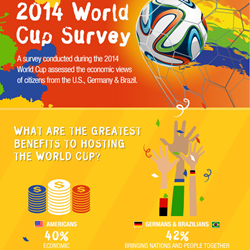 Seattle, WA (PRWEB) July 09, 2014
QuestionPro, Inc., an online survey software provider, released the results of its 2014 World Cup survey. Americans, Germans and Brazilians were surveyed on their attitudes toward the 2014 World Cup in relation to Brazil's economy and infrastructure. When asked their opinion on the greatest benefit of the World Cup, Americans most commonly answered "economic" (40% of Americans surveyed), as opposed to Germans and Brazilians who most commonly cited "bringing nations and people together" (42% of Germans and Brazilians).
Americans were also less supportive of funding social programs as an alternative to the $11B Brazil spent on hosting the World Cup. When asked whether or not Brazil should have diverted some funds toward social programs such as education and housing, only 50% of Americans felt Brazil should have spent funds on social programs, as opposed to 74% of Germans and 65% of Brazilians. Additionally, given the costs, only 50% of Brazilians surveyed felt that Brazil should have hosted the World Cup at all.
Some other findings include:

Americans are far less pessimistic about Brazil's economic prospects from hosting the World Cup, about 45% of Brazilian and German respondents feel the World Cup will have a negative economic impact on the nation, as opposed to only 21% of US respondents who feel the same;
Over 48% of all respondents feel that hosting the World Cup in a developing nation widens the gap between the rich and poor;
With 8 deaths associated with building World Cup stadiums in Brazil, 70% of all respondents feel that number of causalities is unacceptable and that extreme measures should be taken to lower that figure;
A majority 56% of respondents agree that government should not appropriate funds toward an event that yields a loss;
In terms of most common viewing behavior by country, 63% of Brazilian respondents are following all or most games, 39% of Germans are following most or half of the games, and 67% of Americans are either watching just a couple of games or none at all.
For more information on this research project, please visit http://bit.ly/world-cup-survey.
-----
About QuestionPro: QuestionPro is a leading global provider of online survey software and premium respondent sample services that allows for fast and professional research. It services over 2.7 million users across 100 countries, including Fortune 100 companies, academic institutions, small businesses and individual DIY researchers. More at http://www.questionpro.com.