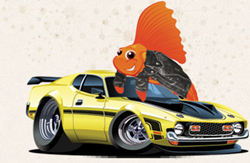 San Diego, CA (PRWEB) June 20, 2014
Today, RoadFish.com (men's lifestyle and finance magazine) deemed the surveys referenced in a recent Adweek article the winners of Road Fish's most unlikely and unexpected survey results award. The Adweek article, written by Robert Klara and titled "Are Brands Better than Sex?," mentioned more than half a dozen surveys, taken from 2008 to 2014, that polled people on what sorts of pastimes and products they would pick over getting hot and heavy in the bedroom. Pastimes included drinking coffee, playing mobile games, and using the internet, while brand items consisted of plasma TV's and iPhones. Those surveyed on all of the above chose to give up giving it up, rather than the respective alternatives. Keeping with the survey theme, Road Fish went on to announce Wufoo as its top survey platform pick.
RoadFish.com's Senior staff writer is quoted as saying, "There's not much in this world I can imagine men choosing over intimacy. So to me, those surveys are incredibly revealing. I never would have thought so many people would choose, say, their iPhones over getting naked. Part of me absolutely loves my iPhone and Apple TV so much that I totally agree with those polled. Another part of me thinks it's pretty sad that we're so married to technology that we'd rather forego physical intimacy and passion than step away from our phones for a weekend. But it just goes to show how important surveys are for learning about what people really want."
Coinsiding with the Road Fish win for unexpected survey results, RoadFish.com's pick for a reliable and functional survey platform is Wufoo. Wufoo has been around for 8 years. Users can access Wufoo as a survey source to poll people. People can poll clients, potential clients, friends, and even family members on everything from what they like/dislike about a service or product, to where the next family reunion should be held. RoadFish.com points out that not only does Wufoo help people easily create online surveys but their forms can also be used to interface with PayPal to take credit card payments and even accept and store attachments.
Wufoo was founded in 2006. Chris Campbell, Kevin Hale, and Ryan Campbell founded the multifunctional platform. It was originally developed to help people quickly build forms on the web. In 2011 SurveyMonkey acquired Wufoo. Now the acquired company integrates web based survey capabilities into its form building, data collecting/analyzing platform.
In his Adweek article Klara states that in recent times, companies have been turning to surveys as a way to tell if their marketing, which ironically oftentimes incorporates some sort of sex appeal, is so successful that their brands come across as being better than sex. RoadFish.com stated that they would like to see results from what they consider the ultimate survey: if pressed, would users be more likely to choose giving up intimacy for one week than going without Facebook for a day? RoadFish.com's Senior staff writer stated they are considering doing a Wufoo Facebook survey on this very question.
More about http://www.RoadFish.com:
Road Fish is a men's online lifestyle magazine for men in their 30's and 40's who enjoy moderate success in their personal and professional lives. RoadFish.com writes about the latest trends in pop-culture, life, dating, as well as restaurants, and randomly men's luxury items. RoadFish.com also publishes financial articles and offers personal finance advice and budgeting tips. RoadFish.com is owned and operated by Purpose, Inc.