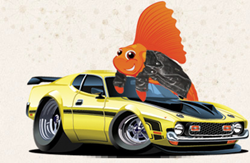 New York, NY (PRWEB) June 30, 2014
RoadFish.com men's lifestyle and finance magazine today released their top four ways to fashion a survey that people will actually be interested in taking. RoadFish.com's announcement came as a response to a June 5th article in the New York Times, "Why People Hate Taking Surveys." The men's lifestyle and finance magazine shared their tips and advice for creating a survey that is interesting, motivating, and unbiased for its survey-takers.
Megan Thee-Brenan, author of the New York Times article, states that there are endless reasons for people to dislike taking polls. One is the ambiguous legitimacy of polls, leaving the surveyor unable to identify whether those doing the polling are simply salespeople. Thee-Brenan states another reason is that people can often feel mislead about the length of time it will take to complete a poll, so it ends up taking far longer than initially promised.
RoadFish.com, self-proclaimed frequent surveyors, have offered up their top four tips for creating a survey that people will actually want to participate in. RoadFish.com's Senior staff writer is quoted as saying, "Surveys help us stay on top of knowing what is needed and desired by our readers and clients. And this information in turn allows us to give them the best information, services and products possible." They estimate that on average, they send out roughly one to three Wufoo surveys per month. Below are RoadFish.com's top four pieces of advice for crafting a killer survey:
1. Keep the survey short and sweet. RoadFish.com's Senior staff writer is quoted as saying, "Whenever I would make something more complicated than it had to be, my father would tell me to KISS, an acronym for 'Keep It Simple Stupid.' It's a principle that was actually originated by the Navy back in the 60s, and it's a good reminder that less is more. Nobody likes complex, complicated, and drawn-out. When writing a survey, remember to KISS."
2. Make it unbiased. Nobody wants to take a survey that they feel is slanted, or rigged in such a way that there is only one possible outcome. Take care not to ask leading questions by avoiding all adjectives, whether positive or negative.
3. Do research to narrow down the exact type of people you want to take the survey. If the survey has no relevance or does not affect the people you are asking to take it, they are less likely to want to contribute. The right people to ask to take the survey will be a demographic who has some political, emotional, financial or other type of investment or interest in the topic. For this reason RoadFish.com advises against using mass-media sites like Facebook or Twitter as one's only means of disseminating a poll or survey, as those outlets are not specific enough to the target audience.
4. Offer an incentive for taking the survey. People are more likely to participate if there's something immediate in it for them, such as a discount, freebie or other giveaway.
For creating surveys and polls, RoadFish.com likes Wufoo's platform, templates, options and usability. RoadFish.com's Senior Staff Editor says, " We utilize Wufoo for surveys on a weekly basis and realize the ways the Wufoo platform can help to create and administer surveys that people will be interested in and motivated to take."
About http://www.RoadFish.com
RoadFish.com is a men's online finance and lifestyle magazine for men in their 40's and 50's who are challenge-tacklers and embrace personal and professional opportunities in life. RoadFish.com's articles span topics from dating, to restaurant reviews, to men's luxury items, to financial advice. RoadFish.com is owned and operated by Purpose, Inc.