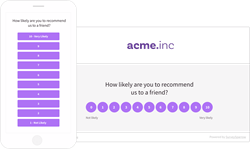 "With our latest NPS addition we are helping our customers to measure the brand loyalty. In an age where reviews and feedback decide buying decisions, your NPS Score helps you stay ahead of your competition. The only way to improving Customer experience is measuring it and keep improving."
PALO ALTO, Calif. (PRWEB) August 23, 2019
SurveySparrow, a cloud-based customer experience platform, announced the launch of it's end-to-end Net Promoter Score (NPS) solution, an extension to the current CX platform to its customers today. With this latest NPS offering, SurveySparrow intends to help companies to measure brand loyalty and accentuate business growth. SurveySparrow allows users to create and share mobile-first, conversational surveys which are highly engaging and user friendly.
NPS is a simple metric that helps measure the loyalty of customers towards a brand/service. NPS is calculated based on the responses to a single question: "How likely are you to recommend this product/service to a friend or colleague". With the newest NPS addition, companies now can quickly close the feedback loop with a simple follow-up question.. It is only when you act upon the feedback, the process is completed. The two-part survey questionnaire ensures that you are leaving only positive CX, with strategically designed features such as automated recurring surveys, one-time blast, throttling and more. This not only helps in keeping the surveys engaging but also avoids survey fatigue.
"With our latest NPS addition we are helping our customers to measure the brand loyalty. In an age where reviews and feedback decide buying decisions, your NPS Score helps you stay ahead of your competition. The only way to improving Customer experience is measuring it and keep improving." said Shihab Muhammed, CEO & Co-founder, SurveySparrow.
SurveySparrow is the world's first survey software to offer both a conversational and form-like output, increasing the survey completion rate by 40%. With Conversational User Interface (CUI), SurveySparrow let users create and share highly engaging, mobile-first surveys that offer a chat-like experience. It has a built-in automation that allows organizations to manage customer experience surveys, employee pulse surveys and market feedback surveys. It serves as a platform for organizations to arrive at meaningful business decisions based on the feedback received. SurveySparrow provides a continuous improvement platform, the first of its kind to close the feedback loop instead of collecting feedback and then forgetting about it. The company also provides customers with best-in-class experience with offline feedback collection and NPS survey solutions.
"Customer Experience is the process of how customers engage with your brand throughout the journey, and NPS is the best instrument to measure its effectiveness. This integration will help us to accurately tap into our customer's needs and align our business with those which is going to increase customer satisfaction." said Nick Salnikov, Product Analyst, Brella.
Based in the US, SurveySparrow was founded in October 2017 by Freshworks veteran Shihab Muhammed and ex-Zoho employee Subin Sebastian with offices in Kochi & Palo Alto. SurveySparrow has over 10,000 customers in 108 countries including DiDi, PaySafe, FedEx, Deloitte Digital, SAP, and Siemens. The company recently raised $1.4 million in seed funding from Prime Venture Partners.
About SurveySparrow
SurveySparrow is a Palo Alto-based customer experience platform that aims to reimagine the data collection experience. SurveySparrow's Conversational User Interface (CUI) allows users to create and share highly engaging, mobile-first surveys. The platform is well-equipped to perform an extensive analysis of the feedback collected to derive meaningful business conclusions.
For more information, please visit http://www.surveysparrow.com.