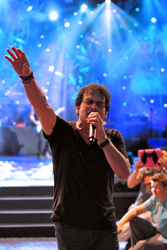 "I called him 'Golden Throat' and for good reason. Jim Jamison had a voice we will never forget. It was massive and huge and yet sweet and gentle. He was a loving soul and a brother to me in many ways. I will miss him greatly" said Sullivan
Los Angeles, CA (PRWEB) September 10, 2014
In the wake of lead singer Jimi Jamison's sudden death on August 31, Survivor has canceled the September and October dates of their fall 2014 tour. "We are devastated by this loss, we trust that our fans will understand our wanting to take some time to mourn and remember our brother," said Dave Bickler, who, along with Frankie Sullivan, is an original member of the celebrated band formed in 1978. Tour organizers are working with host venues to re-schedule the canceled dates.
"I called him 'Golden Throat' and for good reason. Jim Jamison had a voice we will never forget. It was massive and huge and yet sweet and gentle. He was a loving soul and a brother to me in many ways. I will miss him greatly" said Sullivan
Jamison joined Survivor in 1984, some of the hit songs recorded by the band during that period include chart busters like "I Can't Hold Back," "High on You," and "The Search is Over.", from the "Vital Signs" album and "Burning Heart" from "Rocky IV." In 2004 he was featured in the Emmy nominated Starbuck's commercial that parodied their iconic hit, "Eye of the Tiger."
2012 would delight Survivor fans around the nation, when they began touring with both Jamison and Bickler "It was an honor to share the stage with such a great talent and Jimi was one of the best vocalist in the business" said Billy Ozzello. "Even though he's gone, he will continue to be with us in spirit"
Survivor's fall tour begins again on November 13 in Hanover, MD.
For updated information on Survivor Band tour dates and news, visit their website http://www.survivorband.com.
Contact:
Nadine Christine
Creative Souls PR Group
Ph: 310-990-3337
nadine(at)creativesoulsprgroup(dot)com
Peter Rinker
TC Management
Ph: 310-622-7905
peter.rinker(at)tcmanagement(dot)com