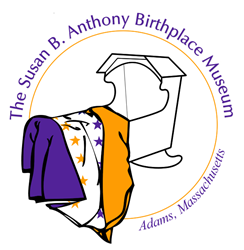 The 'non-negotiable' for Susan is that every woman who is able get out and exercise their right to vote.
Adams, Massachusetts (PRWEB) November 07, 2016
In honor of this Election Day, the Susan B. Anthony Birthplace Museum in Adams, Massachusetts, will open with free admission on Tuesday, November 8, and Wednesday, November 9.
On the eve of this presidential election where the front-runner is a woman, the Birthplace Museum expects the likely victor to be Hillary Clinton as the first female Commander-in-Chief of the United States of America.
Susan B. Anthony, in whose honor the Nineteenth Amendment to the US Constitution is named, was the primary suffrage leader winning for women in the United States the right to vote. Anthony was born in the Massachusetts' Berkshires. Today her historic federal-style home is a museum.
"Susan died 110 years ago, before women won the right to vote in 1920," Colleen Janz, Executive Director of the Birthplace Museum, said. "Little did she realize that nearly 100 years after the 19th Amendment, women would have an opportunity to run for the highest office in the land."
The Birthplace Museum has been swarming this past week with women, their daughters and sisters, wanting to embrace the woman who made their vote possible.
Janz is often asked by guests who she thinks Anthony would vote for. "Neither candidate measures up to early feminist ideals," explains Janz, as she gives visitors tours of over 14 museum exhibits.
The Birthplace Museum displays of Anthony's newspaper, The Revolution, tell of suffrage opposition to Restellism (opposition to abortion) and support for equal pay for equal work. Janz also references Anthony's illegal vote for president in 1872, when everyone was surprised for whom she cast her ballot.
"The 'non-negotiable' for Susan is that every woman who is able gets out and cast their vote and exercise her right," Janz said.
For more information, contact Colleen Janz, Executive Director, 413-743-7121, colleen(at)susanbanthonybirthplace(dot)org, and Carol Crossed, President, 585-442-8497, carol(at)susanbanthonybirthplace(dot)org.