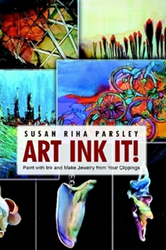 VICKERY, Ohio (PRWEB) July 01, 2015
Author and artist Susan Riha Parsley introduces her original method for creating one-of-a-kind jewelry pieces that incorporates ink and synthetic paper in her new guidebook, "Art Ink It!: Paint with Ink and Make Jewelry from Your Clippings" (published by Lulu).
An innovative artist who works in many different mediums, including ink and paper, Parsley offers guidance for artists interested in making their own creations using ink and synthetic paper in this instructive manual.
Her unique technique provides both novice and experienced artists a means of creating beautiful pieces that can be sold at art shows or shown in galleries.
Parsley, who loves to use brilliant colors for paintings, jewelry and other creations, shares step-by-step instructions with accompanying images that will guide artists through a detailed process that includes lists of materials, specific techniques and framing ideas.
Also included are directions on how to take a clip from a painting and create vibrant pendants and a list of resources for inks, frames and mats.
"Art Ink It!"
By Susan Riha Parsley
Softcover | 6 x 9 in | 88 pages | ISBN 9781483418995
E-Book | ISBN 9781483419008
About the Author
Susan Riha Parsley grew up in Sauk Village, Illinois, and studied ceramics at Cuyahoga Community College. She has a degree in liberal arts and taught herself how to paint with ink and work with infused glass and other mediums. She is in the process of writing a new book on encaustic painting, scheduled for publication in 2015. More information is available at http://www.parsleys-art.vpweb.com and http://www.fineartamerica.com.
Lulu empowers people of all ages to explore and express their interests, passions and expertise through books, photography and art. Since introducing self-publishing in 2002, Lulu has empowered creators in more than 225 countries and territories to produce nearly two million publications. Lulu Jr. allows children to become published authors, encouraging creativity, strengthening literacy and building self-esteem. Picture.com offers professional photography of collegiate and professional sports, memorable and historic events, fine art and home décor. For more information, please visit lulu.com.