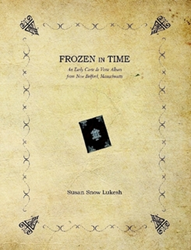 NEW YORK (PRWEB) March 04, 2016
"Frozen in Time: An Early Carte de Visite Album from New Bedford, Massachusetts" (published by Lulu) presents an 1860s photo album compiled by author Susan Snow Lukesh's great-great-grandmother – one of many family archivists – against the almost unmentioned backdrop of the Civil War, offering details of daily living, marrying, working and dying of the individuals whose portraits are displayed in the album.
In addition to the personal profiles, Lukesh presents a look at the transition of the New Bedford, Mass., whaling community with a worldwide reputation to a strong mill economy. These details also show how the financial and intellectual capital of the city fueled development throughout the United States.
The book presents local history, and is also "one example of petite histoire – the account of particular households and neighborhoods – and reminds us of the continuing importance of both family and neighborhoods, real or virtual," Lukesh says. "The discussion of nineteenth-century social media also shows those in the twenty-first century that Facebook is essentially old social media on a new platform. The photographs from the time of the Civil War underscore the arc of photography from its first use capturing images of war to its present use to record violence perpetrated on and perpetrated by police."
Lukesh was entrusted with the family album that is the basis of "Frozen in Time" and used her experience in research, artifact interpretation, and writing to develop the narrative of the book. She hopes readers will take away the importance and value of both family and history, as well as "the part of the family in history."
"Frozen in Time"
By Susan Snow Lukesh
Hardcover | 8.5 x 11in | 182 pages | ISBN 9781483439198
Softcover | 8.5 x 11in | 182 pages | ISBN 9781483439204
E-Book | 182 pages | ISBN 9781483439181
About the Author
Susan Snow Lukesh grew up in eastern Massachusetts hearing family stories, and later started studying her family tree back to the 17th century. She served 20 years in higher-education administration, excavating in Southern Italy and Sicily during the summers. More information is available at susanslukeshLLC.com and SSLukeshFrozeninTime.com.
Lulu empowers people of all ages to explore and express their interests, passions and expertise through books, photography and art. Since introducing self-publishing in 2002, Lulu has empowered creators in more than 225 countries and territories to produce nearly two million publications. Lulu Jr. allows children to become published authors, encouraging creativity, strengthening literacy and building self-esteem. Picture.com offers professional photography of collegiate and professional sports, memorable and historic events, fine art and home décor. For more information, please visit lulu.com.