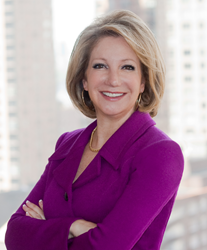 We are in an era of engagement where you must bring your people along the change journey, shoulder-to-shoulder with management."
New York, NY (PRWEB) March 25, 2014
The Association of Management Consulting Firms (AMCF) selected Susan Tardanico, CEO of the Authentic Leadership Alliance and Executive in Residence at the Center for Creative Leadership, to be a judge in its annual awards competition which will culminate in a ceremony on March 27. Tardanico judged the Change Management category, evaluating submissions from management consulting firms that helped drive strategic and operational transformation in organizations around the world.
"The Change Management category saw the greatest growth in entries this year, indicating that companies big and small are recognizing the importance of engaging change management experts to help them achieve sustainable improvements in their organizations," said AMCF President Sally Caputo. "This trend will continue as the rate and complexity of change continues to accelerate."
Tardanico has served on both sides of the change equation, helping lead organizational transformation from the inside of companies as a corporate executive for 25 years, and now helping clients successfully manage individual, team and organizational change as principal of her consulting firm.
"The quality of submissions showed increasing sophistication among client companies and consultancies when it comes to orchestrating and driving sustainable change," said Tardanico. "We are in the age of engagement where you must bring your people along the change journey, shoulder-to-shoulder with management. Whether the change is as specific as an implementation of SAP or a new HR Information System, or as broad as a shift in company vision, strategy or business model, mounting such an effort requires careful planning, a commitment to two-way communication and involvement, and tolerance for a process that doesn't always follow a straight line.
Tardanico continued, "I am delighted to see increasing numbers of clients and consultancies recognizing the need to incorporate change management techniques and priorities into the front-end of their programs, instead of treating change as an afterthought or a nice-to-have. This bodes well for the effectiveness of change initiatives across public and private sectors."
In addition to Change Management, the AMCF awards competition includes entries for Growth Strategies, Customer Engagement, Developing Markets, Innovation, Human Capital, Finance and Risk Management, Operational Performance, Supply Chain, Information Technology, Operating Model Design, New and Digital Media, Corporate Responsibility/Humanitarian, and Internal Initiative.
Winners will be announced during the AMCF Gala this Thursday in New York City.
About the Association of Management Consulting Firms
AMCF is the premier international association of firms engaged in the practice of consulting to management. The mission of AMCF is to be the collective voice and promote knowledge exchange and professional standards for the community of management consulting firms from around the world. AMCF serves as the voice of the industry on major issues, representing the profession before government and regulatory bodies, working to improve standards and practices and enabling firms to work smarter.
http://www.amcf.org
About the Authentic Leadership Alliance
The Authentic Leadership Alliance LLC (ALA) is a leadership and communications consultancy that helps clients achieve transformational results. Areas of expertise include communication strategy and execution, leadership development and executive coaching, change management and employee engagement.
http://www.authenticleadershipalliance.com