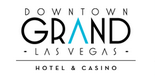 The $100 million renovation took three years to complete and is expected to create 700 to 800 new jobs
San Marcos, CA (PRWEB) November 21, 2013
The ultra-hip new Grand Hotel in downtown Las Vegas recently had a ribbon cutting ceremony on November 12th and ushered in a new era of excitement and prosperity to downtown Las Vegas. The $100 million renovation took three years to complete and is expected to create 700 to 800 new jobs.
The 634 room two tower hotel has several restaurants and bars and among them is Picnic, sitting atop the third floor pool area. The Picnic pool area rivals some of the hippest rooftop hotel patios in America, and the restaurant/bar will sure to be a draw when it opens in late March/early April. Picnic, described on the hotel's website as a rooftop urban pool retreat will feature hand crafted frozen drinks, bottle service, and a menu created from quintessential American picnic food.
Picnic guests will even be able to spread out picnic blankets on the lawn beside the pool. An outdoor tent will feature communal picnic tables, live blackjack, and a rotating live entertainment. No doubt, this exciting addition to the new Grand Hotel, Las Vegas will keep hotel guests coming back again and again.
Plantscaper, Susie Ameche, of Make Be-Leaves in Agoura Hills, CA consulted with designers to create the faux greenery for Picnic. A lush, faux "lawn" made of artificial turf surrounds the pool, area. This only makes sense for this location, since a real lawn would be prohibitive due to maintenance and water costs. Six foot tall artificial boxwood hedge panels surround the inside walls of the pool area, and they appear to be real hedges, lending a classy appearance to the fun space.
Make Be-Leaves, a California company, has sold faux greenery and consulted designers on commercial properties all over the world. Faux greenery including artificial boxwood hedges, fake bamboo, topiaries, trees and faux living walls is showing up at restaurants, hotels, casinos, and office buildings everywhere as the quality of the fake plants ever increases. Companies love the fake plants because they require little maintenance and best of all – no water.
The Grand Hotel, Las Vegas will no doubt be one of Las Vegas' top destinations as it catches on. The hotel has been designed to be user friendly – not resorting to the old tricks of trapping its patrons in the casino. The casino entrances have been designed to encourage new customers to come in, while also inviting existing hotel guests to explore the streets and areas outside of the hotel. The Grand Hotel, Las Vegas hopes to create brand loyalty by being a bit different from the hotels on Strip, and Picnic is one of the attractions helping the hotel achieve that goal.
Make Be-Leaves
Susie Ameche
800 634-1402
http://www.makebeleaves.com/