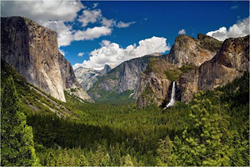 The GSN Annual Congress has been changing lives and causing positive change for 8 years. It is the industry's only connecting point for anyone passionate about true solutions for a sustainable future."
Yosemite, CA (PRWEB) May 15, 2015
The Green Spa Network (GSN) is now accepting registrations for their 8th Annual Congress, the only spa event in the industry designed to define sustainability issues and inspire solutions. With the theme Moving Mountains: The Power of Change, this year's event will be held at the award-winning Tenaya Lodge in Yosemite, CA, September 26-30, 2015.
Building on 7 years of success, this year's Congress attendees can look forward to the rich personal and professional development the event has historically fostered, tapping the infinite knowledge of nature and the incredible legacy of preservation that Yosemite is known for. Back by popular demand, Larry Prochazka will return as facilitator to guide an interactive creative process designed to leave participants inspired and connected with concrete solutions for ongoing sustainability initiatives. Larry's engaging and intimate leadership style has received outstanding reviews from spa professionals and sustainability minded groups for more than a decade. Agenda highlights will be released in the coming months.
The regular Congress program begins on Sunday evening the 27th. Inspired by the location's intense beauty, for the first time GSN is also offering an exclusive optional 3 ½ day program beginning on Saturday September 26th with an outing to the Yosemite Valley floor. In partnership with Delaware North and the historic Ahwahnee Hotel, the group will experience their award winning GreenPath program in action. In addition, extended program participants will have an opportunity to experience iconic Yosemite with a skilled naturalist walking among the giant sequoias, waterfalls and soaring granite walls.
"In a recent CONE Communications Social Impact Study, 93% of responding global consumers would like more of the products, services, and retailers they use to support social or environmental issues," says GSN Executive Director, Paul Schmidt. "This year's Congress is a chance for spa professionals to learn how to lead the way in defining sustainability issues and creating truly sustainable solutions. How fitting to come together in breathtaking Yosemite, which has inspired visionaries for centuries."
Early Bird rates, valid through June 30, 2015 are $725 for the standard program and $915 for the extended experience. Registration includes programming and most meals with transportation and lodging additional. For more information and to register visit http://www.greenspanetwork.org/8th-annual-fall-congress/
ABOUT THE GREEN SPA NETWORK
With its community of over 400 influential spas and suppliers, the Green Spa Network is leading the spa industry to deliver authentic health & vitality services by embracing sustainability. Through networking, education, and best practices developed with its membership of the nation's most innovative green spas, GSN is setting the standard for social and environmental sustainability in the industry. For more information, visit http://www.greenspanetwork.org.