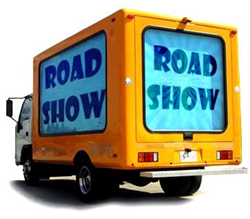 If we work together today!
Ontario, Canada (PRWEB) February 27, 2015
Everyone is invited to participate in First Nations – North American Art & Culture "Road Show," sponsored by ChiNini's Nature Wonderland and Sustainability Partnerships. Everyone can join the fun and music in person and via live radio, television and Internet streaming.
Abin and The Psychobillys band will co-host with Rainbow Medicine Show. Events will be updated daily. The route of the Road Show is as follows: Sault Ste. Marie, Thunder Bay, Winnipeg, Regina, Saskatoon, Edmonton, Calgary, Banff, Jasper, Kamloops, Vancouver, Seattle, Portland, LA, San Diego, Phoenix, Albuquerque, Dallas, New Orleans, Miami, Greensboro, Richmond, Washington, Baltimore, Philadelphia, New Jersey, New York, Springfield, Boston, Portland, Bangor, Saint John, Halifax, Moncton, Fredericton, Quebec City, Montreal, Ottawa, Toronto, North Bay, and then back to Sault Ste. Marie.
For more information and updates, visit http://sustainabilitypartnerships.net/chininiz-nature-wonderland/
Visit hidden countryside, indigenous art, culture events, festivals farms, functions and heartwarming hospitality during the Road Show. Attendees can also meet and interact with cultural creators, carvers, community culture, bead-work and beaver pelts, as well as exotic attractions and ancient arts. They may also search for hidden treasures and actionable artifacts.
Attendees will learn history of the land, feast on forgotten foods, and help build charities and sustainable communities across North America at the Road Show. They can also raise funds by experiencing and promoting culture and art; create awareness for Mother Nature's foods, fish and things with fur, in the traditional way that the ancients did; promote hidden art, culture, ancient teachings; and sponsor their hometowns' attractions, events and local businesses along the way.
Media Contact:
Christopher Link at 310 598-0316
partners(at)sustainabilitypartnerships(dot)net