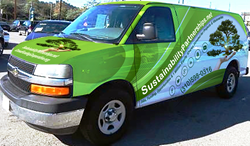 Events Road Show
Los Angeles, California (PRWEB) March 26, 2015
Interested parties are invited to experience cutting edge sustainability breakthroughs, crowdfunding cooperative, green inventions, new connections and support systems from Sustainability Partnerships, Alan Tratner, Gary Shelton and other sustainability visionaries.
ITINERARY:
1) Annual Earth Day Month Green2Gold Workshop
a. Saturday April 4, 2015 from 1 PM to 5 PM
b. Los Angeles Central Library, meeting room A
2) Los Angeles Sustainability Coalition Construction Forum
a. April 13-14
b. Metro Headquarters, Los Angeles, California
3) EarthDay
a. April 16-19
b. Santa Barbara California,
4) Space Tech Expo
a. May 19-21
b. Long Beach California,
5) Sustainatopia
a. May 27-30
b. Century City California.
6) International Green Industry Hall of Fame Annual Conference & Induction Ceremony
Awards will recognize individual and organizational excellence in the Green Industry.
(Santa Barbara, CA.) – For the fifth year, the International Green Industry Hall of Fame (IGIHOF), a nonprofit founded in 2008, will honor organizations and individuals across the world that are recognized pioneers, innovators and creators of best practices in the green industry.
The IGIHOF Induction Ceremony and Conference will take place on the campus of the University of California, Santa Barbara.
This year's theme for the conference is "Water Nexus: Challenges and Solutions" and will explore the current global water crisis within the broader field of sustainability.
On an annual basis, IGIHOF asks the general public to nominate individuals or businesses that are working towards an environmentally sustainable future. The IGIHOF Board of Directors will announce the 2014 Hall of Fame Inductees in recognition of their contributions to the green industry.
The 2014 nominees include Amory Lovins, Patagonia, Bio Bag Group, Novo Nordisk, Steven Ashkin, CREE, Mirimichi Golf Course, Meryl Streep, Dynaglobal, Leonardo DiCaprio Foundation, Go Green Flooring, UCSB Bren School of Environmental Science & Management , Ellen Strickland, Voltaic Systems, Pomar Junction Winery, California Sustainable Wine Growing Alliance, Honda Motor Co., Make It Right Foundation, Coldspring and many more. "I'm elated to be nominated for induction into the International Green Industry Hall of Fame," said Steve Ashkin, The Ashkin Group. "It's truly an honor to be considered for induction along with this impressive list of nominees. It's also a great opportunity to share the story with today's youth. I have been very impressed with IGIHOF's global mission and impact over the years. The organization has advanced sustainability leadership while promoting these critical values world-wide."
The event, co-sponsored by the Environmental Education Group/ http://www.Green2Gold.org, a Santa Barbara based international non-profit organization specializing in youth education and the environmental entrepreneurship & inventing. Prof. Alan Tratner is a Lifetime Achievement Inductee of IGIHOF and says: "We are delighted to partner with IGIHOF and co-produce this vital Annual event for years to come, paying homage to all those who are truly making a difference in the global drive for a sustainable, vibrant Green Economy that aids economic development and protects Earth's environment for future generations." Many of Green2Gold Inventors and Innovators will be exhibiting at the event, including the new major crowdfunding platform, Sustainable Partnerships. Parjana and SunRun are also Co-Sponsors of IGIHOF.
IGIHOF is hosted by the Bren School of Environmental Science & Management, UC Santa Barbara, the event will also include 25 exhibitors, speakers, Water Nexus panel, and a networking event with green businesses professionals from some of the largest corporations in the world. Executives and individuals from companies that have an environmental sustainability focus, NGO's, government agencies, educational institutions, and high school/college students are encouraged to attend. To learn more about International Green Industry Hall of Fame and register for the conference, interested parties can visit http://www.gogreenhall.org for more information.
About International Green Industry Hall Of Fame Founded in 2008, the International Green Industry Hall of Fame (IGIHOF) is an international organization that recognizes excellence in the green industry and continues to build an educational platform for the next generation. Each year, IGIHOF recognizes individuals and organizations that have contributed to reducing the environmental effects from industrial production, have embraced green technology to drive projects or have developed products aimed at boosting energy efficiency, trimming waste, and reducing or eliminating the use or the production of harmful substances. IGIHOF preserves the rich history of these pioneers, leaders and visionaries through the International Green Industry Hall of Fame, and honors the efforts they have made for future generations.
Media Contact:
Christopher Link at 310.598-0316
partners(at)sustainabilitypartnerships(dot)net