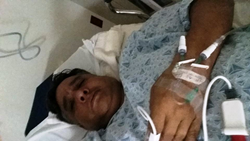 We Must Work While It Is Day
Los Angeles, California (PRWEB) April 09, 2015
As a result of the excruciating pain caused by kidney stones in his own body, founder of SustainabilityPartnerships.net has launched new kidney stones funding campaign as one of its sustainability projects for general public. The campaign is offering generous perks and incentives to participants that help in raising awareness to reduce the rising cases of kidney stones today, interested parties can read more at CrowdFundingCooperative.org.
Monday, founder of Sustainability Partnerships was hospitalized for ailment more painful than childbirth and has started a kidney stone funding Campaign as cases have doubled since 1994. HealthCommunities.com states that that kidney stones cause excruciating pain, described as worse than childbirth, and is on the rise affecting about one in 11 Americans—a marked increase over the one in 20 they affected in 1994. CNN published a story about kidney stones being so intense that rocker Vince Neil of Motley Crue had to leave a show to check into a hospital
"Since Monday the excruciating pain is still unbearable and is absolutely the worst pain I ever experienced in my entire life" says Joseph of Sustainability Partnerships. Monday night an ambulance took him to an emergency hospital, where Dr's found an obstructed kidney stone to be the problem, and was released Tuesday morning to see his my primary Doctor, but the excruciating pain will continue until the kidney stone passes through the urethra.
The goal is to raise awareness and provide information to kidney stone issues, and interested parties are encouraged to visit the funding campaign launched by cooperative platform of sustainability partnerships at http://crowdfundingcooperative.org/projects/cooperative-platform-of-sustainability-partnerships/
Media Contact:
Christopher Link at 310.598-0316
partners(at)sustainabilitypartnerships(dot)net