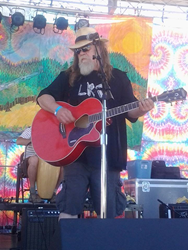 Imagine
Central Park, New York Saturday, April 18, 2015 (PRWEB) April 14, 2015
April 18th Abin Griffin, music director of the Cooperative Platform of Sustainability Partnerships will honor John Lennon; by performing his own tribute song "Forever Lennon" at Strawberry Fields in Central Park in New York City. Abin wrote "Forever Lennon" 34 years ago. This will be the anniversary of Abin's song. He has always wanted to play this song so close to where John had lived since Strawberry Fields was created. Now he has traveled from Southern Oregon to perform at the Imagine Star to honor John Lennon and to reach 1 billion people on behalf of Sustainability Partnerships with green funding; PR, marketing & sales support to help companies, projects & communities become more environmentally and socially responsible.
Interested parties can click here to listen to "Forever Lennon" and click here to connect with Abin
Abin Griffin is an original songwriter and guitarist, he performed in two bands, ARC in 1985 and Mekababbah in 1992. In 1994 Abin recorded with Ben Binay whom has 11 Gold Records, one with Dolly Parton "Here You Come Again" and 2 Platinum Albums. His favorite is with B.B. King and Bobby Bland. "Together Again for The First Time" Ben's first gold record was with "The Association" and their 1965 hit "Cherish". Abin recorded "Power of Change" with Ben. Unfortunately Ben Binay passed in 1999.
In 2012, Abin produced a show with Occupy Eugene Oregon and Indubious for Cooperative Econmics and small businesses. This led him to performing his own music again at local festivals in Southern Oregon and by 2014. he formed a band called, Abin and The Psychobillys whom performed at seven different festivals all over Oregon in the Summer of 2014, Also recorded three songs together. Now they are collaborating online to finish their Rock Opera "Last Dance at The Edge of Time" a protest song rock opera with a message of Sharing and cooperation.
Abin is also a musical activist, producer and founder of The Rainbow Medicine Show. Which is dedicated to the research and development of democratic workers owned economics in community development, and environmentally safe business practices. The Rainbow Medicine Show has a long 27 year history including a media for peace event, in April 1997 with Ralph Nader and the Student Green Party. Nader did a speech at the Maine Center for The Arts as the main speaker for his show. He went on to do four other shows and got signatures on six different petitions. One that helped to close Maine Yankee Nuclear Mark I Power Plant with Bill Linnells, petition to keep Maine Yankee closed.
As music director of Cooperative Platform of Sustainability Partnerships Abin's music events and road shows will reach out to 1 billion people with green funding; PR, marketing & sales support to help companies, projects & communities become more environmentally and socially responsible.
The goal with Sustainability Partnership will be reached by a collaborative of many events, many road shows, and green leaders worldwide such as Professor Alan Tratner, Gary O Shelton, and many others joined via SustainabilityPartnerships.net, Green2Gold.org and CrowdFundingCooperative.org whom offers full support and 1 on 1 coaching for green projects and visionaries.
Interested parties can listen to CPSP on live PartnerRadio.org or visit in person at Earth Day April 16-19 in Santa Barbara, Space Tech Expo May 19-21 in Long Beach California, Sustainatopia May 27-30 in Century City
Abin Griffin Email : abingriffin(at)gmail(dot)com
35 Circle DR.
Hudson NH 03050
603 545 5485
Media Contact:
Christopher Link at 310.598-0316
partners(at)sustainabilitypartnerships(dot)net