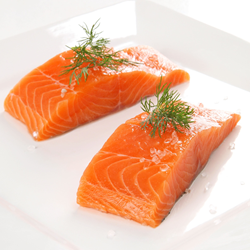 We strive to offer the best possible meals to the students we serve, and providing sustainable Alaskan salmon to Lexington Schools is one more step we are taking towards this commitment
Islandia, NY (PRWEB) January 07, 2015
On January 7th, 2015, the students at Lexington High School in Massachusetts will start enjoying sustainably harvested Alaskan salmon right in their own school cafeteria. On this day, the cafeteria will offer a delicious meal consisting of baked Alaskan salmon with a choice of a basil sauce or mustard sauce, roasted vegetables and herbed roasted red bliss potatoes. The students have already embraced other fish-based dishes such as crusted tilapia, so the school foodservice staff is sure the Alaskan salmon will be a hit!
This sustainable wild salmon is provided by the family-owned fishery Taku River Reds (http://www.takurr.net/). The fishery is owned by the Peterson family who process, package, ship and market only the salmon they personally catch aboard their fishing vessel, the Heather Anne, or purchase salmon from a small network of Taku Inlet fishermen who share the same sustainable practices.
Whitsons School Nutrition is committed to providing only high quality meals, and prepared fresh daily from wholesome ingredients. According to John Whitcomb, Whitsons' Chief Operations Officer, "We are very proud of this initiative. We strive to offer the best possible meals to the students we serve, and providing sustainable Alaskan salmon to Lexington Schools is one more step we are taking towards this commitment."
About Whitsons School Nutrition
Whitsons Culinary Group provides a wide range of highly customized dining services to public schools, corporations and institutions, with a strong focus on nutritious, high quality menus made from fresh, wholesome ingredients. Whitsons has a long and proud history of excellence and growth since 1979 and currently ranks the 4th largest school nutrition provider in the United States. Whitsons' scope of expertise and services extends to: emergency dining, residential and healthcare dining, prepared meals, and school dining and services.
For more information about the Lexington Public School's program visit our website at http://schools.whitsons.com/ma/lexington-public-schools .