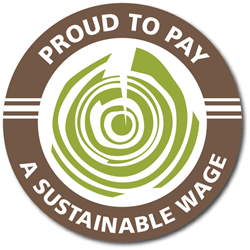 Raising the starting wage to a living wage for our coworkers is just a smart thing to do.
Farmington, NY (PRWEB) September 01, 2017
Beginning Labor Day, September 4, 2017, reclaimed and sustainable wood manufacturer, Pioneer Millworks will initiate a $15/hr wage program for full-time employees. Currently the statutory minimum wage for Farmington, NY and McMinnville, OR (location of company mills) is $9.70 and $10.25, respectively. This wage increase comes four years prior to the NYS mandate and five years prior to the OR state mandate.
"Raising the starting wage to a living wage for our coworkers is just a smart thing to do," says Jonathan Orpin, Founder and President of Pioneer Millworks. "We're looking at this as a capital investment, the ROI balances the financial investment in our people with better retention and attracting a strong talent pool."
"We believe that if we support our people, give them the tools (which includes wages and benefits) to invest in their families and in their local neighborhoods, that this will pay the company back in the long-game. It's the same thinking as investing in a $100,000 piece of equipment that we believe will pay us a return on investment in the years to come." says Orpin.
Pioneer Millworks estimates that the program costs will be offset by higher quality employees, better retention, and more efficient work on the jobsite. It will cost the company approximately 2% of gross revenue to make this change that will affect a portion of its 70 employees. Currently, it is the only company in the reclaimed and sustainable wood industry who has publically committed to producing product domestically and supporting its employees with a $15 per hour wage program regardless of state law.
"It's the right thing to do for our community, our coworkers, and the culture of America now more than ever," says Jennifer Young, General Manager of Pioneer Millworks. "We already pay 50-80% of our people's healthcare costs. We share our profits in years of abundance. We support our employees purchasing energy-efficient and alternative fuel vehicles. As a small business, we can enact change from the bottom-up, not just with the dollars we spend, but with the policies and culture we create."
"We've never been a business to shy away from doing what's right. We've kept manufacturing jobs in the United States and grown our workforce domestically despite many manufacturers moving production to less-expensive countries—all while keeping our pricing competitive. We rescue wood from incineration and landfills. We buy from sustainable practice forests and manufacturers. We've invested in solar energy to run our offices and we heat our mill with our own wood scraps. Facing the challenges of today's world head-on is nothing new for us," says Orpin. "We're excited to join the growing number of businesses that have committed to this wage increase and we hope others will do the same—it's time."
About Pioneer Millworks:
Pioneer Millworks is the leader in the reclaimed and sustainable wood industry. To date, they've rescued nearly 27 million board feet of old wood from rot and landfills, giving it new life as flooring, paneling, millwork, cabinetry, and more. All wood is manufactured in a way that's healthy for customers, employees, and the environment. Pioneer Millworks is FSC-certified and Green America approved. All of their products are LEED point eligible.