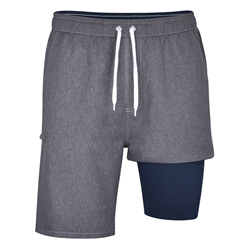 "Sustainable, comfortable activewear is a segment that's ripe for innovation" - Andrew D'Souza, CEO and co-founder, Clearco.
TORONTO (PRWEB) August 17, 2021
Clearco, the world's largest e-commerce investor and the company revolutionizing the way founders grow their businesses, today announced that its ClearAngel program is funding NoNetz, Inc., which produces comfortable and sustainable activewear for boys and men.
Founded in 2012, NoNetz creates comfortable and sustainable clothing through a combination of thoughtful design and high tech fabric. After a cancer diagnosis forced her to consider a new career path, founder Cathy Paraggio applied the knowledge and experience she'd gained as a Director of Tech Services for a software company towards her entrepreneurial path. NoNetz began as a solution for anti-chafe swimwear for men and boys and has grown into a larger collection of activewear, including the new Perfect Polo the company plans to release in mid-September, as well as the sustainable kid's rash guard made from recycled water bottles. Diversifying their product line is just one of the reasons Cathy is thrilled about receiving the ClearAngel funding.
ClearAngel is one of a few equity-free, flexible capital options for early-stage founders who don't have the network to raise an angel round or join exclusive accelerators. The program has already funded over 350 companies since its February 2021 launch.
"Sustainable, comfortable activewear is a segment that's ripe for innovation," said Andrew D'Souza, CEO and co-founder, Clearco. "Working with Cathy and NoNetz reflects yet another opportunity for ClearAngel to work with a promising woman-led business, and a high-growth business that's addressing a real need in the market."
In addition to $56,000 of flexible capital, NoNetz will also get access to a network of over 500 investors, growth teams, agencies, apps, lawyers, and buyers; and data-driven advice designed to help scale and hit new revenue milestones.
"I'm excited to receive the ClearAngel funding and look forward to applying it towards diversifying our product line with the use of technical fabrics," said Paraggio. "The funding will also help with stabilizing our seasonal cash flow, which is crucial to our growth and our mission to help people make peace with their clothes and the earth."
To learn more about NoNetz Inc. and experience its comfortable activewear for yourself, visit nonetz.com.
ClearAngel is currently onboarding E-commerce and product companies, and has limited spots available for SaaS, Apps, marketplace and stealth companies. To learn more about applying, visit angel.clearbanc.com.
About Clearco:
Co-founded as Clearbanc in 2015 by Michele Romanow from Canada's Shark Tank (Dragons' Den), Andrew D'Souza, Ivan Gritsiniak, Charlie Feng, and Tanay Delima, Clearco offers the most founder-friendly capital solutions for e-commerce, mobile apps, and SaaS founders as well as a full suite of products and access to a powerful global network, insights and data, and recommendations. Clearco has invested over $2 Billion in over 4,500 companies to date, including Leesa Sleep, fashion-rental service Le Tote, home goods company Public Goods, shirtmaker UNTUCKit, online speech therapy practice Expressable, and digital real estate marketplace SetSchedule. For more information visit clear.co and @getClearco.