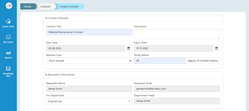 "Excellent product - Excellent service' SutiSoft has saved our company time & money with an easy to use platform. The service that we have received has been exceptional!"Jessica SeaholmOperations Administrator
SUNNYVALE, Calif. (PRWEB) March 30, 2022
SutiSRM helps buyers and suppliers seamlessly manage all the sourcing and procurement activities throughout the sales order processes.
KEY FEATURES
Bidding
Buyers can quickly evaluate bids & proposals, view pricing, and other details. Award vendors and issue purchase orders easily.
Contract Management
The integrated contract management solution allows buyers to create, negotiate, and sign contracts online easily.
Invoice Creation
SutiSRM allows vendors to create invoices easily along with shipment notes. Invoices created can be pushed directly into SutiAP for payment processing.
Audit Trail
A full audit log is available for users to track the details of requisitions, purchase orders, and more, including approval statuses, date & time of approval, and approver comments.
Purchase Orders
Buyers can create purchase orders from approved requisitions and send POs to vendors. POs can be customized from layout & design to data fields.
For more information, please visit us at http://www.sutisrm.com or call us on 650-969-SUTI.
About SutiSoft Inc
SutiSoft provides a comprehensive suite of cloud-based business platforms and solutions for companies of all sizes. These platforms include scalable and easy-to-use solutions for HR, Employee Travel & Expense, CRM, Document Management, Business Data Analytics, and Electronic signature. Our platforms and solutions enable small, mid-size, and large enterprise customers to control costs, save time and assist in making smart business decisions. Headquartered in Sunnyvale, California, SutiSoft also has regional offices in Germany, India, and Japan. For additional information visit our website at https://www.sutisoft.com