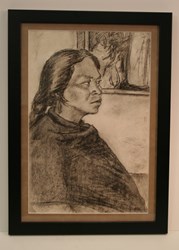 Fort Collins, Colorado (PRWEB) October 31, 2013
A rare charcoal drawing by New Mexico Artist Suzanne Kutka Boss is currently being offered for sale on Ebay. "Indian Woman in Shawl," an unsigned original charcoal drawing, was created by Boss in the 1930s or 1940s.
The drawing is 12" X 17 ½". The work is framed--dimensions are 22 5/16" by 14"--behind CC glass, meaning it has a 98% UV rating for protection.
In 2008, "Indian Woman in Shawl" (then unframed) was appraised by Nina Lee Greek for $812.50. The work is now framed (framing cost $108.50). In her appraisal, Ms. Greek stated, "Mrs. Homer Boss was known as Suzanne Kutka Boss (SKB) throughout her long artistic career. Probably this was an artist's study in the work-a-day world of artists…this rendition has personality. Suzanne Kutka Boss is truly a talented portrait artist." Her works were exhibited frequently in New Mexico.
The listing for "Indian Woman in Shawl" is available here.
Proceeds from the sale of this work will benefit the Fort Collins Senior Center Expansion project. For more information, visit SeniorCenterExpansion.org.
About Suzanne Kutka Boss
Born Sept. 22, 1897, the oldest of 10 children, Suzanne Kutka studied at the Arts Students League in New York City and taught art in the public schools in Yonkers, N.Y. She married Homer Boss, a widely respected teacher at the Arts Students League, on Nov. 28, 1927.
The couple spent summers at the San Juan Pueblo, New Mexico, in a house rented from a Tewa Indian. They found the New Mexico climate and the seemingly endless opportunities for artistic expression thoroughly agreeable and sometime later they bought a ranch at Santa Cruz, a little to the South of the pueblo. The shell of an old adobe house remained on the land and the couple rebuilt it into a home and studio where they continued to paint, concentrating on landscapes and portraits of their Indian neighbors, many of whom became good friends.
The Indians, in affection and respect for the couple, referred to Homer as Quahtenbeh "House of Color" and to Suzanne as Pahye-powi "Summer Flower". Both Homer and Suzanne sketched and painted the Indians in their ceremonial and informal dress. In 1932, the New York Evening Post characterized Boss's Indian portraits as having "a majestic simplicity of character."
Although both Homer and Suzanne loved the desert and naturalness of their way of life in Santa Cruz, it was necessary for them to return to New York City. Between 1937 and 1941, in order to make an adequate living, Homer again taught winter sessions at the Art Students League and the New York School of Applied Design for Women while Suzanne taught art in the public schools and continued her own art studies. In New York City, they spent time in fellowship with good friends and artists Stewart Klonis, Bernard Klonis and his wife Carol Mead Klonis, and John C. McPherson and his wife Sara Freedman McPherson, to name a few.
When Carol and Bernard Klonis' son was born, they named him Homer, and, many years later, when he had a daughter, she was named Suzanne for her parents "hoped she might also possess the wonderful quality of joy that Suzanne Boss had."
In 1941, the couple decided to no longer make the annual treks to New York City and instead remained in their New Mexico home. After the strenuous years of teaching and painting in the city, the simplicity of life in New Mexico was refreshing and they loved it!
After World War II, Suzanne initiated an education program in Espanola, N.M. where she was recognized for her work in making the "Espanola High School art department one of the best in the state of New Mexico" when the Espanola Valley Chamber of Commerce named her the "Outstanding Woman on the Year" in 1957.
On January 15, 1956, Suzanne's husband Homer died in their adobe home and his cremated remains were buried on a hill overlooking the couple's beloved ranch and the distant mountains, so often knowingly portrayed on canvas. Suzanne Kutka Boss joined him there in June of 1976; a large cross marks their graves.
About the Fort Collins Senior Center Expansion Committee
The Fort Collins Senior Center opened in 1995 and it immediately was operating at capacity. With Larimer County's 65+ population projected to grow by more than 140% over the next 20 years, Fort Collins voters approved a $5.1 tax increase to expand the Senior Center. The Senior Center Expansion Committee, a citizen-led 501(c)(3) non-profit, is nearing its fundraising goal of $1 million to complete all aspects of the expansion.