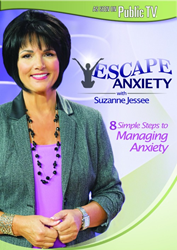 The therapies clinicians use to treat anxiety are the exact same therapies used to prevent it. Don't get sick, you don't have to.
Detroit, MI (PRWEB) December 04, 2014
While many therapists are extremely familiar with anxiety, it is rare that they are as well-acquainted with the condition as Suzanne Jessee. Nearly 25 years ago, Jessee was hospitalized and diagnosed with anxiety, as well as severe depression, panic disorder, and early-stage agoraphobia. This pivotal turning point in her life lead her to become a master's level clinician, and inspirational and educational speaker, and a meditation guru. Jessee is sharing her knowledge through the DPTV television segment airing on December 6th and her upcoming book- Escape Anxiety.
When Jessee became sick, she had many questions about her illness. She felt a driving need to understand it; this lead her to undertake years of schooling, training, and clinical experience. Now, Jessee's main goal is to help others who are suffering. While working at the Betty Ford Clinic, her program received a positive response, which led Jessee to systematize the packages and create the Escape Anxiety and Escape Anxiety Deluxe programs, also available in digital format. Through her upcoming book, 'Escape Anxiety: 8 Steps to Freedom Through Meditative Therapies', which will be released in February 2015, as well as coaching webinars, Jessee hopes to offer excellent mental health care at an affordable price that anyone can use in the comfort of their own homes.
The television segment, entitled "Escape Anxiety with Suzanne Jessee," will run on Detroit Public Television on December 6th at 3:30PM EST channel 56. During the one hour segment, copies of Jessee's book and 8 step program will be on sale. Jessee used this same program at the Betty Ford Center to treat patients who were diagnosed with anxiety disorders. Jessee also has a recorded interview with Harry Hartunien that was filmed in the usually off-limits meditation room at the clinic.
Says Jessee, "The therapies clinicians use to treat anxiety are the exact same therapies used to prevent it. Don't get sick, you don't have to; I can assure you, if I had the skill set/tools I'm giving you in the book and in the home program, I would have never gotten as sick as I did."
Suzanne Jessee
After Suzanne Jesse was diagnosed anxiety, depression, a panic disorder and the beginnings of agoraphobia in 1991, she received her Bachelor's of science and psychology. She went on to earn a Master's degree at the world renowned treatment center, publishing house, and accredited masters program Hazeldon Betty Ford Foundation. During the time that she was earning her certification is when she wrote the Escape Anxiety in home program.