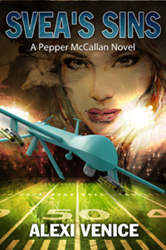 Venice swiftly drives a complex plot that traverses the world, using science and technology that are eerily believable in 2015.
Eau Claire, WI (PRWEB) September 11, 2015
In 'SVEA'S SINS' (eBookit; September 2015), Venice swiftly drives a complex plot that traverses the world, using science and technology that are eerily believable in 2015. Venice also leverages the absence of drone regulation.
In 'SVEA'S SINS,' Pepper McCallan doesn't expect to be needed so urgently by Brent Cahill while she and her husband Bill are island-hopping in the Caribbean in the fall of 2018. Brent discovers he needs Pepper's help to thwart a terrorist plot on America that incorporates nerve gas, drones and sexual liaisons between world leaders.
Venice carves out her writing style by weaving romance into thriller terror plots. The reader gets to know Brent Cahill's character as he builds a relationship with the love of his life, Jackie Starr, who is a high-powered CrossFit trainer, by taking her on a vacation to the island of St. Martin.
Furthering their counterterrorism success, Brent Cahill and Pepper McCallan unnerve the stunning Swedish Minister for Foreign Affairs, Svea Lovgren, by confronting her at a formal ball in Stockholm. Brent and Pepper consider Svea's twisted motives by analyzing her sexual rendezvous with Russian President Vadik Volkov.
As Pepper is drawn deeper into clandestine travel, her husband, Bill McCallan, resumes his career as an orthopedic surgeon at Southview Hospital in Minneapolis. Bill unexpectedly finds himself at the center of a large scale disaster at Southview Hospital that has Svea Lovgren's handprints on it.
In this riveting second novel, Pepper continues to enhance her reputation in the Counterterrorism Agency with the President of the United States in a not-so-distant future that proves to be as sinister as it is sentimental.
Alexi Venice gets her groove on with deeper romance and more heinous terror plots in the third Pepper McCallan novel, which features hot romance and spectacular vineyard scenes, due out in winter 2015.
'SVEA'S SINS' is published by eBookIt.com. Go to http://www.alexivenice.com for more information. You can purchase her novels on Amazon under Alexi Venice.
About the Author
Alexi Venice is a thriller-romance writer who has been practicing law for 26 years. She incorporates science and technology into her fiction and makes it a point to visit most of the destinations described in her books, as well as to engage in Pepper's activities in the books, including boxing and wake boarding. She is the president of the Hot Mama Water Ski Club and loves outdoor biking and playing on the lake with her Duck Tolling Retriever, Daisy. She is married and lives with her husband in Wisconsin.
About eBookIt.com
Since 2010, eBookIt.com (based in Sudbury, Massachusetts) has helped thousands of authors and publishers get their books converted to ebook format, and distributed to all the major ebook retailers, including Amazon.com, Barnesandnoble.com, Apple iBookstore, Kobo, Sony Readerstore, Ingram Digital, and Google eBookstore.
###