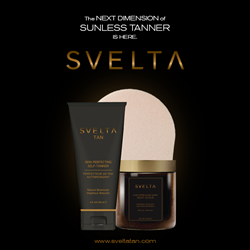 SVELTA Tan invites customers to celebrate their grand opening with special savings of 20% off all products site-wide.
Tempe, AZ (PRWEB) September 25, 2014
SVELTA Skincare ushers in the next dimension of self-tanning with SVELTA Tan. Formulated with natural botanicals, SVELTA Tan is the first skin-perfecting self-tanner that targets color, toning, anti-aging, soothing, and hydration in one product.
The new website, http://www.SveltaTan.com, opens to the public September 24 following significant social media buzz. The launch of their website comes with two official product releases and a grand-opening sale event.
SVELTA Tan invites customers to celebrate their grand opening with special savings of 20% off all products site-wide through the following week. Shoppers can apply the coupon code "S20G" at checkout to access the discount.
Aiming to revolutionize the self-tanning world, the brand combines a natural, realistic tan with a wealth of skin-perfecting botanical ingredients. SVELTA Tan's Skin-Perfect Self-Tanner targets five essential skin benefits: gorgeous color, slimming and toning, firming and anti-aging, healing and soothing, and skin hydration.
The brand's focus on high-performance ingredients sets SVELTA Tan apart. The key tanning active featured in the line is botanically-derived, Eco-Cert certified DHA, selected for its realistic color and purity. Mineral bronzers also provide an instant bronze, and the included tanning mitt makes application fool-proof.
Paired with all-star botanicals including guarana, poppy seed extract, green tea, bladderwrack, camu camu, almond oil, aloe and many more, SVELTA Tan truly offers an all-in-one skin perfecting solution. SVELTA invites customers to learn more about their botanicals and benefits on their detailed ingredients page.
SVELTA also launched their Luxe Raw Sugar and Coffee Body Scrub, touted as the "triple shot" of body scrubs. The Luxe scrub features organic raw sugar and roasted coffee for gentle exfoliation, olive and almond oils for silky hydration, and cardamom for an incredible, addicting aroma.
Customers can find more information on SVELTA products and read reviews on brand's website, as well as on the SVELTA Tan Facebook, Twitter and Instagram pages.
SVELTA Skincare caters to today's demanding, savvy, high-end beauty consumer. The brand distinguishes itself by using only the finest botanical ingredients, each hand-selected to deliver both function and benefits to customers. SVELTA products are 100% vegan, cruelty-free and free of parabens, sulfates and phthalates. Visit SveltaTan.com for more information.