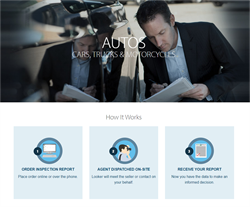 The companies are providing a one stop shop for nationwide vehicle leasing transactions.
Nationwide, USA (PRWEB) April 14, 2015
WeGoLook announces it has signed an agreement with Swapalease.com as their exclusive automotive inspection company for off lease and trade-in vehicles this week. This strategic relationship will provide Swapalease customers the opportunity to purchase auto inspections prior to lease takeovers.
"It's important to offer car shoppers the ability to get an accurate assessment of the vehicle they're interested in taking over," said Scot Hall, Executive Vice President of Swapalease.com.
The companies are providing a one stop shop for nationwide vehicle leasing transactions. A customer looking to swap their current vehicle is matched with individuals looking for short-term leases and payments in their price range. WeGoLook provides the new lease buyer the opportunity to gather additional information before they agree to terms of the lease swap. Through an on-site inspection and vehicle photos, the WeGoLook Report provides consumers with the unique data that is essential prior to online nationwide lease agreements.
"We offer confidence and convenience," said Terry Mollica, Vice President of Business Development for WeGoLook. "Confidence comes from piece of mind that a third party independent vehicle inspection company is validating your vehicle is as described. Convenience comes from the fact we go wherever the vehicle is located and we do inspections seven days a week."
About Swapalease:
Headquartered in Cincinnati, Ohio, Swapalease.com is the world's largest automotive lease marketplace and the pioneer in facilitating lease transfers online. For more information about Swapalease.com or how to exit your lease early, call 866-SWAPNOW or visit http://www.swapalease.com.
About WeGoLook:
WeGoLook is a dynamic field services and inspection company leveraging a sharing economy of 15,000+ Agents in the United States. Tasks and inspections are assigned to Agents through a crowdsourced platform. Agents collect field data, photos, and video via the WeGoLook Mobile App and complete custom tasking such as item pickup and delivery and more. WeGoLook specializes in verifying autos, properties, boats, heavy equipment, antiques, electronics, furniture, RV's and other assets. WeGoLook has expanded to international markets in the United Kingdom, Canada, and Australia with other countries to follow.