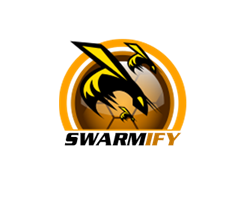 Many customers are saving in the 50 - 57% range.
Space Coast, Florida (PRWEB) April 02, 2014
Swarmify.com recently launched the first commercially available technology utilizing WebRTC (Web Real Time Communications) to distribute website video and images. WebRTC is a protocol that allows browsers to communicate with each other without requiring the end user to download a plugin or software. While most of the companies experimenting with WebRTC have been focused on Voice Telephony or VoIP, Swarmify.com has focused their efforts on data transmission of video and images. "In late 2012, when I began researching WebRTC, every article I read discussing WebRTC focused on how it could apply to conference software or chat in some way. I immediately thought it might be possible to send large chunks of data, in the form of videos and images, across browsers using the WebRTC Protocol. We spent a few months building the prototype and shared it with a few beta companies. At that point I knew we had something special," states Nathan Barnett, CTO and Partner of Swarm Labs.
Swarmify worked with beta testers for close to a full year while working out all of the technology issues that typically come with technology innovation. In February of this year they launched the first paid plans using WebRTC for videos and images. "The first year was pretty challenging. We worked like mad to get a stable versatile product. But those long hours paid off and we're excited to offer low cost plans to sites to help them save a dramatic amount," said Nathan. The exact saving anyone will realize will depend on a number of factors, such as, how many videos a site streams, how large the videos are, and how many users are in the Swarm network. Plans start for free and go all the way up to Enterprise level where customers will be paying in the thousands. Why free plans? "Free plans allow users to test Swarmify. It allows them to understand Simultaneous Connections (or Users) and how this number can affect the amount they will save by using our product. Many customers are saving in the 50 to 75% range," stated Jesse Delia, Partner.
So why should anyone, especially well established CDNs care about this technology? For one CDNs have high infrastructure and overhead expenses. Take the largest and more reputable CDN, Akamai, which has close to 150,000 servers in 92 countries. Their large infrastructure expenses are reflected in the cost passed down to customers. CDN pricing is often a factor of 10 times or greater than traditional hosts. Swarmify potentially could supply millions of servers to every country at a fraction of the cost. Swarmify views itself as a disruptor. "As this technology becomes more prevalent the pressures on CDNs will be great. CDNs will either partner with companies properly using WebRTC or they'll be supplanted," said Mr. Delia.