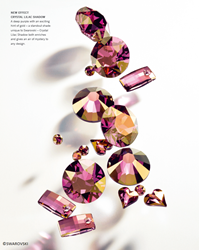 This Swarovski Innovation is a real Schatztruhe, a Treasure Trove with a spell to be discovered...
(PRWEB UK) 16 September 2013
Opposites attract this autumn as the latest glittering Innovations by Swarovski combine urban cool with warm nature palettes, and classic romance with edgy modern styles. The latest Swarovski Innovations are already in stock and ready to be shipped worldwide.
Central themes of Swarovski's new autumn collection are rich colours and nature-inspired cuts, such as heart-shaped clover leaves and octagons inspired by spider web patterns. The colours are drawn from opulent tones found in gemstones, including purple and deep green to complement to longer evenings.
"As we move into autumn and the nights get longer, colours typically get darker. This is true of Swarovski, which has delighted us all with this magnificent range of innovations that evoke the treasures of the past, a real Schatztruhe - german for Treasure Trove -commented Klaus Jaeger jr. Key Account Manager of Modastrass.
"The key trends this autumn are sumptuous colours and eye-catching new cuts, like the Solaris Family of Flat Backs and Fancy Stones that have an intuitive natural symmetry. Highlights of this collection are probably the Urban Pendant, with its unique dog-tag shape and the Trilliant stone with its goddess's sparkle" continued Jaeger.
Swarovski is celebrated for its precision and lovers of symmetry will appreciate the new Solaris Fancy Stone. The Sweet Heart Fancy Stone is a contemporary take on a classic design as the asymmetric cut is a must-have accessory that expresses the wearer's individuality.
Standout colours this season are bolder and more regal, pairing rich berry tones with glittering gold. The Crystal Blackberry Pearl and Crystal Lilac Shadow embody this season's berry theme and the spectrum is completed by the addition of the distinctive Dark Moss Green colour.
"Modastrass supplies a huge assortment of Swarovski Elements crystals to a range of customers from fashion designers to hobby craft enthusiasts," added Jaeger. Our knowledgeable consultants also provide specialist advice on application techniques to achieve a flawless, professional finish."
About Modastrass
Modastrass (https://b2b.modastrass.de/ ) is a preferred Swarovski Elements stockist for many high street fashion designers. Swarovski is renowned worldwide for manufacturing 'products of precision' for artists and fashion designers since 1895. Modastrass supplies Swarovski Elements to creative communities, hobby fans and businesses for use in a wide range of embellishment applications. For more information, email info(at)modastrass(dot)com or visit the Modastrass website.