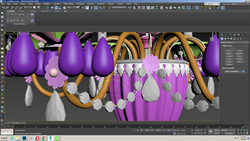 You just don't get the speed, cost, or flexibility using traditional photography
FLEMINGTON, N.J. (PRWEB) October 31, 2019
The Challenge:
With a big release of NEW product scheduled for January's Dallas Market, Swarovski Lighting NA has an incredibly tight timeline: to approve the fixtures' final designs, have them ready to show in Dallas, AND have a new print catalog ready for the launch.
Photographing the numerous variations has always been a challenge for this highly configurable premium fixture brand and traditionally a fixture has been limited to one image in a common configuration. That model simply does not work anymore in today's online world where images are King. So there is no way, following the status quo, the deadlines could be met for the quantity of imagery needed.
The Solution:
3D rendering has totally changed that; making the impossible possible and affordable.
Since 2018, IndustrySync.com has set the standard for high quality, high resolution fixture imagery derived from 3D rendered objects. Based here in the US, IndustrySync manages a Team of vetted and highly trained 3D Designers who understand the product needs, from finishes and textures to lighting and shadows, creating an incredible visual experience. This latest project marks the first time Swarovski Lighting NA has committed to the entire run: 180+ unique images, knowing they will get the images delivered on time, on budget, and with the look and feel required for their premium brand experience.
And for increased value, 3D objects become a long term asset. As the collection is expanded, new finishes are introduced, or lifestyle images are required, the object and its elements can be used in perpetuity, decreasing the cost per image to prices unattainable with photo shoots, fixture costs & logistics costs. Try doing that with a 2D photograph!
To learn more, contact IndustrySync.com's 3D Team.
About IndustrySync:
We formed IndustrySync in early 2018 because the focus of Home Decor Manufacturers finally started to change. The online channel kept growing, traditional Sales Reps could not support digital efforts, and Distributors were demanding more and more to promote products online. We work with both Manufacturers and Distributors to address the digital shortcomings in data and imagery. 3D Rendering was a natural extension of our core services, to enhance the available imagery or to create custom and unique images that differentiates the experience.