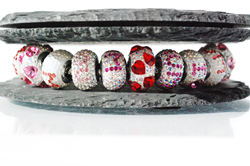 Just like a kiss, the bracelet will charm her long after she has received it.
London, UK (PRWEB UK) 2 May 2014
Just in time for Mother's Day on 30th March, preeminent crystal manufacturer Swarovski has launched a limited edition of their popular BeCharmed Pavé Beads. Modastrass, a preferred supplier of Swarovski crystal elements is pleased to offer this special range as an ideal gift for style-conscious mothers with an eye for glamour.
The three special BeCharmed Pavés are completely surrounded with shimmering stones for maximum reflection of light and sparkle. Affectionate designs such as a heart-shaped crystal motif or the word 'Mum' engraved in glittering gemstones make for an outstanding gesture of love and appreciation.
These charming beads suit a range of different looks from classic to rock chic, and can be used to create truly unique jewelry pieces for gift givers wishing to present a bespoke Mother's Day treasure. BeCharmed Pavés look fabulous threaded on fabric, leather or cord alongside rondelles, pearls and an assortment of different beads.
The renowned quality of Swarovski ensures these BeCharmed Pavés will last a long time, reminding her of this gesture of unconditional love year after year.
"This limited edition BeCharmed range is all about making mothers feel special," explains Klaus Jäger, jr. Key Account Manager at Modastrass.
"The combination of glamour, endearing design and exquisite craftsmanship makes this the perfect gift for any jewelry-loving mum. The flexibility of being able to use the pavés to create your own special gift also makes it an ideal option for craft enthusiasts."
The new Mother's Day special edition of BeCharmed Pavés Beads is available to purchase today from the Modastrass website.15% off code for orders can be accessed here.
About Modastrass
Modastrass (https://b2b.modastrass.de/) a brand owned by JAEGER CRYSTAL Distribution GmbH is a preferred supplier of Swarovski Elements for many high street fashion designers. Swarovski is renowned worldwide for manufacturing 'products of precision' for artists and fashion designers since 1895. Modastrass supplies Swarovski Elements to creative communities, hobby fans and businesses for use in a wide range of embellishment applications. For more information, email info(at)modastrass(dot)com or visit the Modastrass website.