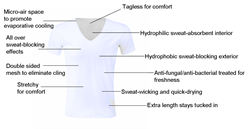 Even after 100 washes, significant sweat repellency remains as an intrinsic property of the shirt fabric.
Tokyo, Japan (PRWEB) September 22, 2015
The days of having to wear black to hide sweat stains are over. NanoDri sweat resistant shirts from Japan are made with Japanese super fabric and technology, featuring a hydrophilic sweat absorbent interior and hydrophobic sweat-repellent exterior, resulting in sweat-hiding effects all over, including the back, sides and under-arms.
The shirts offer relief to hyperhidrosis sufferers, as well as to people who tend to sweat excessively in the heat or when playing sports, during stressful work or dating situations, or to those who simply want to look cool and confident at all times.
The sweat repellency properties of the shirts are the result of nanotechnology-based molecular reactions within the fabric itself, not spray on chemicals.
"Using this Japanese technology, we've been able to create very thin stretchy water repellent fabrics," said a spokesman from Progenomics LLC, the company that created the shirts. "Even after 100 washes, significant sweat repellency remains as an intrinsic property of the shirt fabric."
And unlike other shirts that claim the same, NanoDri is thinner and lighter and uses 100% stretchy double-sided breathable mesh polyester, one of the fastest drying materials there is. This material efficiently wicks and spreads moisture over a large area. And because the material is highly breathable, any moisture contained inside quickly evaporates, leaving the wearer feeling cooler and drier.
Additional features of the shirts include:

Tagless for comfort
Absorbs moisture 3 times faster than cotton
Anti-fungal/anti-bacterial treated to maintain freshness
Micro air space in the fabric interior to aid in evaporative cooling
Double sided mesh to maximize air flow and eliminate clinging
For undershirts, extra length in the bottom means it stays tucked in
For undershirts, deep V neck for men and U neck for women means they stay hidden under button down shirts.
The shirts, priced at approximately $47USD, have been launched on the crowd funding site Kickstarter to raise funds for a planned release early in 2016, well before the summer heat reaches its peak.
Other heat relief products the company has launched include made-in-Japan MeshPro Ultimate Aeration Insoles and the Aquamist, a hand-held misting device.
About the company: Progenomics LLC is a Japanese company that is active in the manufacture of innovative products that utilize Japanese technology and materials. The company is also an Amazon Japan, Yahoo shopping and Rakuten solutions provider, providing services to help foreign businesses sell directly to Japanese consumers on these internet platforms.