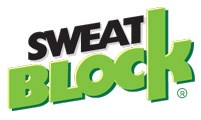 To surpass three million applications sold means we're living up to our promise to help people stop sweating and eliminate the embarrassment and hassle of unwanted and unsightly perspiration
Salt Lake City, Utah (PRWEB) November 29, 2013
It is estimated that over 8 million Americans and over 220 million people globally suffer from a condition called hyperhidrosis, with countless more who simply feel they sweat more than they should. This excessive sweating manifests as unsightly sweat in the underarms or other parts of the body and causes millions to alter their wardrobe to conceal sweat, restrict their social interactions because of embarrassment and sweat-related anxiety, and feel less confident in educational and vocational situations. SweatBlock antiperspirant was developed to dramatically reduce, if not completely eliminate excessive underarm sweating and help people regain their confidence in all of life's situations.
Recently SweatBlock announced its newly achieved standing as the #1 antiperspirant on amazon.com and now proudly announces the surpassing of another success metric with over three million applications sold - a clear indicator that the SweatBlock is growing in popularity and helping its customers achieve a new level of confidence.
"To surpass three million applications sold means we're living up to our promise to help people stop sweating and eliminate the embarrassment and hassle of unwanted and unsightly perspiration," says Chase Purles, CEO of SweatBlock. He continues, "Because SweatBlock has an average effectiveness of about 6.6 days per application (according to an ongoing customer survey), that means SweatBlock has helped our customers achieve an estimated 19,800,000 days of confident, no-sweat living."
SweatBlock is unique from other antiperspirant products for two main reasons:

The trade-secret, safety-tested, FDA-compliant SweatBlock formula works for up to seven days per usage to provide maximum effectiveness and is designed specifically to reduce irritation common with other clinical strength options.
SweatBlock is applied using a pre-soaked towelette to ensure gentle, yet sure contact with the skin.
SweatBlock has been featured on many national and local television programs and continues to be highly rated on amazon.com with 1000+ reviews and 4.5 stars. "This type of customer reinforcement is encouraging and is the kind that just can't be faked in our tech-savvy society where every customer has a platform to be heard," says Mr. Purles.
SweatBlock was born when a renowned chemist sought a solution for his own sweat problem. A decade of testing and tweaking the formula has produced the best option available to stop the excessive sweating. Today SweatBlock has helped thousands of people solve their excessive perspiration problems. If you're looking to stop the sweat and are hesitant about prescriptions, Botox™, surgeries, or expensive "all natural" fixes, give SweatBlock a dry run. Visit sweatblock.com for more information about their sweat prevention product.