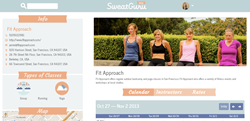 SweatGuru is the only easy, affordable way I have found to manage my dance business and grow my client base. - Minila Shah, founder of Ajna Dance in New York, New York
San Francisco, CA (PRWEB) October 30, 2013
SweatGuru (http://www.sweatguru.com), the marketplace that connects consumers with fitness classes, launched today in San Francisco, New York and Los Angeles. SweatGuru gives consumers an easy way to discover, book and share fitness classes online. The company offers small and mid-size fitness businesses a free way to market classes online and an easy, affordable solution to manage their business.
No matter where a consumer is on their fitness journey, SweatGuru will help them discover groups and services ranging from personal training to spinning to yoga, and manage their fitness profile online. With SweatGuru, people can find local classes, follow instructors or trainers in their area, then reserve and pay for classes with a couple of clicks.
For fitness professionals, creating a business profile and listing classes on SweatGuru.com is always free. For a reasonable monthly fee starting at $19 per month, SweatGuru offers a simple, out-of-the-box way to run a small or mid-size fitness business ranging from 1 to 20 employees. Managing instructor schedules, client reservations and collecting payments online are all features of the core product. SweatGuru offers every new fitness professional a 30-day free trial.
"SweatGuru was born out of the need for a better way to manage my growing bootcamp business, take reservations and stay in touch with clients," said Jamie Walker, SweatGuru co-founder and CEO. "As a fitness consumer, I also wanted an easy way to discover, reserve and pay for classes in my neighborhood. SweatGuru is built by fitness pros for fitness pros. We will start by growing our network in San Francisco, New York and Los Angeles, and look forward to expanding to other markets soon."
IBISWorld estimates that fitness is a growing market in the U.S., expected to reach over $26 billion in 2013.
"SweatGuru is the only easy, affordable way I have found to manage my dance business and grow my client base," said Minila Shah, founder of Ajna Dance (http://www.ajnadance.com) in New York, New York. "I love that listing classes is always no charge to me, but the real value is in the $19 per month package that helps me make more money and save time managing my schedule and payments. The SweatGuru team understands my needs and has built a solution that I rely on every day to run my business."
About SweatGuru:
SweatGuru is the online marketplace for fitness classes and experiences. By allowing anyone to organize, discover, book and share fitness classes online, SweatGuru takes the work out of working out. The company offers the first easy-to-use, affordable online business management solution for marketing, scheduling, payments and more, and allows busy fitness professionals to spend more time teaching and less time behind a desk. SweatGuru is headquartered in San Francisco, CA.