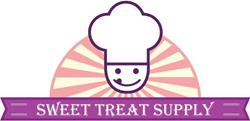 "Our goal is to serve as an all-encompassing resource for our valued customers, bringing them the best possible products and the best possible prices." -Eric Kaufman, co-owner of Sweet Treat Supply
Gridley, IL (PRWEB) June 26, 2014
Sweet Treat Supply LLC today announced its latest exciting promotions for candy makers and cake decorators alike. For a limited time, customers have the opportunity to save on a variety of items in Sweet Treat's brand new inventory.
New this month to Sweet Treat's vast selection of top-quality products is Ghirardelli Sunrise Cocoa Powder, available in 25-pound boxes at $87.50 each. The versatile powder can be used for a wide variety of baked goods, imparting a deep, rich flavor and smooth texture. Customers purchasing two or more boxes will receive free shipping.
Also just introduced to the Sweet Treat inventory are Barry Callebaut Semi-Sweet Dark Flakes, perfect for topping ice cream, cakes and cupcakes, or using as a delicious substitute for regular chocolate chips. These are available in a range of sizes; 1-pound bags are $6.97, 5-pound bags are $29.85, and 45-pound boxes are $179.00 apiece. 45-pound boxes also include free worldwide shipping.
Sweet Treat prides itself on providing the best quality candy making and cake decorating supplies in the industry, sourcing its products directly from factories to create a diverse selection for its loyal and flourishing customer base. The company also places top priority on working with U.S.-based manufacturers using green technology in an effort to help promote environmentally conscious practices. Sweet Treat's unshakable commitment to customer satisfaction has allowed it to quickly establish a name for itself, growing continually since its inception.
"Our goal is to serve as an all-encompassing resource for our valued customers, bringing them the best possible products at the best possible prices," said Eric Kaufman, co-owner of Sweet Treat Supply. "We're excited about the new inventory and new savings opportunities, and we anticipate many more to come very soon."
Customers are encouraged to visit Sweet Treat's website and social media pages for frequent updates, offers, and recipe ideas.
About Sweet Treat Supply LLC
Sweet Treat Supply is a leading retail confectionery supplier based in Gridley, Illinois. Dedicated to providing the highest quality products to its candy making and cake decorating customers, the company offers a full range of supplies through its website, eBay store, and retail location with worldwide shipping options. For more information please visit http://www.sweettreatsupply.com.