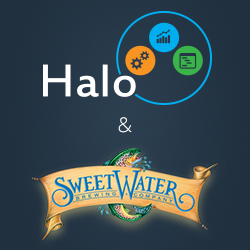 SweetWater continues to invest in processes and programs like Halo's that foster seamless interaction with our distributors, allowing us to deliver the freshest beer in America.
San Diego, CA (PRWEB) September 12, 2017
Halo announced today that SweetWater Brewing Company has signed a multi-year licensing agreement for Halo's Forecasting and Demand Planning platform. Atlanta-based SweetWater was founded in 1997 and is now the 15th largest brewery in the U.S. according to the Brewers Association, with over 165 employees.
To sustain profitable growth, SweetWater's senior leaders chose Halo to improve the speed and accuracy of production forecasting to ensure fresh beer is available in the market at all times.
"SweetWater continues to invest in processes and programs like Halo's that foster seamless interaction with our distributors, allowing us to deliver the freshest beer in America," said Jennifer Hendricks, head of financial planning and analysis for SweetWater.
Halo's Forecasting and Demand Planning solutions deliver two important benefits that SweetWater prioritized during the vendor selection process. First, automatically consolidating data from Vermont Information Processing (VIP), Microsoft Dynamics GP and Excel saves time and produces more accurate forecasts providing a more comprehensive view of market conditions.
Second, SweetWater can now review forecasts by distributor, by brand and by SKU. This information can then be rolled up into dashboards to improve management of the distributors' and brewery's days-on-hand inventory. Moreover, the system will generate an ideal or "recommended" order, useful for benchmarking order volume from distributors and for synchronizing expected orders with the master production plan.
"The team at SweetWater built a great business thanks to strong leadership, hard work and superior products," said Keith Peterson, President and CEO, Halo. "To achieve their growth and margin goals, they had to put more emphasis on operational excellence and the automated decision-support tools that underpin that effort."
About Halo
Halo is an analytics software and advisory services provider which offers customers an innovative blend of technology to manage demand forecasts, inventory and supplier relationships. Halo's Advanced Information Hub is a first-of-its kind solution to help companies leverage all their corporate data to generate new insight for competitive advantage. Halo is headquartered in San Diego, California, and can be reached via the web (halobev.com), Twitter (@Halo_BI) or email at info(at)halobi(dot)com
About SweetWater Brewing Company
SweetWater is celebrating its 20th year and is the 15th largest craft brewery in the nation, according to Brewers Association. The award-winning lineup of year-round beers includes SweetWater 420, IPA, Blue, Goin' Coastal IPA with pineapple, and Hop Hash Easy IPA. Seasonal releases like TripleTail tropical IPA offer palate pleasing variety, along with an experimental, one-time-only Dank Tank series, limited batches from The Hatchery pilot system, and progressive barrel aged styles in The Woodlands Project series.
Visit SweetWater Brewery – located at 195 Ottley Drive in the heart of Atlanta – for tours and tastings, including brews made in The Hatchery pilot system, available only at the brewery. Tour The Woodlands, SweetWater's brand new barrel aging facility, for an in depth education with your guide, along with tastings of some new funky and beautiful Woodlands Project aged brews. For more information about SweetWater Brewing Company and brewery hours, please visit http://www.sweetwaterbrew.com. Follow SweetWater Brewing Company on Twitter/ Instagram @sweetwaterbrew, or become a fan on Facebook at facebook.com/sweetwaterbrew.