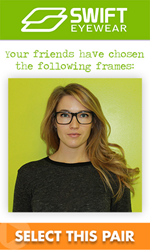 (PRWEB) April 30, 2014
Swift Eyewear Inc. is pleased to announce via press release the launch of Friends Help Friends Buy Glasses iOS and Android App.
The app adds a social layer to buying glasses by allowing your Facebook friends to select the frames that they think best suits you. It's like bringing all of your friends with you to the Eyewear Store and getting their feedback. To make it all the more interesting; the friend that selected the pair bought gets a free pair of glasses.
"The biggest challenge when buying glasses is finding the right pair. You almost always want someone else's opinion before you buy. This app is exciting in that it mimics the experience you would have in a store. It's like bringing everyone you trust with you to select frames," said Joseph Ianni, CEO of Swift Eyewear Inc.
This app embraces the use of social media in a new and exciting way by allowing everyone the opportunity for feedback from friends and family about their eyewear purchase in a smartly conceived iOS and Android application.
Swift Eyewear is an online provider of prescription and non-prescription glasses, sunglasses and contact lenses whose mission is to help students by funding bursaries and providing eyewear through the "Eyeglasses for Education" program. With customers throughout the United States and Canada, Swift is hoping this new social shopping app enhances the customer experience.
Contact Information:
Joseph Ianni, Media Relations
888-388-3334 ext 102
jianni(at)swifteyewear(dot)com
Download the app at:
https://play.google.com/store/apps/details?id=com.swift.eyewear
https://itunes.apple.com/ca/app/friends-help-friends/id726217819?mt=8
Video describing the app at:
http://www.youtube.com/watch?v=Xy1PLjZfoIo