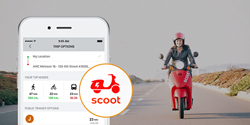 San Francisco, CA (PRWEB) March 10, 2016
Today, Swiftly users in San Francisco will be able to plan trips with three new transportation options: Scoot Classic, Scoot Cargo, and Scoot Quad. Available directly within Swiftly's trip planning mobile app, users will be able to compare the travel time and price of Scoot Network's electric vehicles alongside public transit, Uber, walking, and biking options.
"We have seen significant demand from our users to include Scoot Networks as a transportation option," said Jonny Simkin, CEO of Swiftly, Inc. "As the lines between public and private transportation become increasingly blurred, we are excited to take the first step towards building an integrated transportation network in San Francisco."
Swiftly has quickly become the leading multi-modal trip planning application in the San Francisco Bay Area. With the addition of electric vehicles from Scoot Networks, Swiftly hopes to make it easier for San Franciscans to get around town using transportation options that are affordable and environmentally friendly.
"We are excited to be included in Swiftly alongside all the other options San Franciscans have to get where they need to go," said Michael Keating, founder and CEO, Scoot Networks.
Users can get $10 of credit with Scoot by registering through Swiftly's mobile app or following this link:
https://app.scootnetworks.com/registrations/new?promo_code=SWIFTLY
Bay Area residents can download the Swiftly mobile app for iOS at goswift.ly/ios.
About Swiftly
Swiftly makes data-driven software applications that improve urban mobility. For residents, the Swiftly mobile app discovers the fastest and most affordable ways to get around town by analyzing real-time multi-modal information. For government, Swiftly provides software to help cities improve their operational efficiency, make smarter infrastructure investments, and better engage their riders. The company is based in San Francisco, CA and more information can be found at http://www.goswift.ly or on Twitter @SwiftlyInc.
About Scoot Networks
Scoot Networks, launched in 2012, is headquartered in San Francisco, CA. The start-up electric transportation company offers one-way, zero-emission rides starting at $2 per half-hour. Scoots can park in over 40 neighborhoods in San Francisco. The Scoot fleet of hundreds of light electric vehicles are available to riders through a smartphone app. No motorcycle license is required to ride scoots. More information about Scoot Networks can be found at http://www.scootnetworks.com.