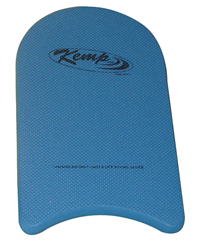 A supurb kickboard for swim team and individual training
Los Angeles, CA (PRWEB) February 25, 2015
Kickboards are a great and inexpensive way to help teach swimmers proper kicking techniques. Whether a student is younger or maybe a little older, kickboards are great at any age to help students learn swimming techniques for different types of strokes. Even if someone is an experienced swimmer, using a kickboard can help them focus more on their leg movements in order to improve technique and build strength. Now Lifeguard Master has three different types of kickboards that will suit a variety of swimmers.
Swimmers can use a kickboard to focus on their legs during technique lessons in order to focus on leg movements and patterns, but also part of its own cardiovascular workout. Kickboards can be used for endurance training, practicing balance, improving buoyancy, or even to continue to practice while resting arms. Kickboards are incredibly useful to have around in both public and private pools so swimmers, experienced or unexperienced, can explore the water with their bodies and use the water resistance to build strength.
The main kickboard Lifeguard Master offers is perfect for groups such as swim teams or schools. The kickboard is made from a rigid and hard design that is made to be comfortable and long lasting. With this classic design, the kickboard can be used for a variety of different kickboard drills and measures 10.5 inches by 18 inches. Created from EVA foam, this kickboard has rounded edges and a comfortable grip along with a contoured bottom to fit different forms. The sleek design of the kickboard allows the swimmer to glide through water easily for smooth and effective drills. Available in royal blue, red, and yellow; the kickboard is made with the same quality as SpongeX, Speedo, and TYR. This swim kickboard also has a discounted bulk price when ordering more than 10, making it perfect for large groups.
The second type of kickboard is the small sized one. Similar to the classic design kickboard, this kickboard is also great for swim teams or classes and measures 10 inches by 14.5 inches. The rigid design allows for swimmers to grip onto the kickboard easily to make for a safer and more effective training session. Created from EVA foam, this kickboard has a contoured bottom that fits every form and rounded edges on the side allow for a comfortable and snug grip. Available in royal blue, this kickboard is great to use when teaching younger classes or swim teams.
The last kickboard currently offered by Lifeguard Master is the Contour Kickboard. Created from EVA foam, this textured kickboard is shaped slightly differently than the other two kickboards. The guitar pick-like shape allows the swimmers to have a better grip with hand holes on each side and space to place elbows. This design allows swimmers to have a better grip on each side of the kickboard and better balance with their arm weight on the board so they can practice leg movements more easily and efficiently. Although rigid and hard, this sturdy kickboard will keep swimmers at the surface for drills and technique practice.
Instructors can use kickboards to practice different strokes and individual students can take time to practice on their own. Whether a student is focusing on a particular movement, getting ready for a competition, or looking for a good workout, kickboards are a great swim tool to accomplish different goals.
No matter the age or the skill level, Lifeguard Master offers a variety of kickboards to suit different needs and different class sizes. Whether a swimmer or instructor is looking to work on stability, leg strength, kicking technique, or resistance training, kickboards are an amazing tool that helps accomplish a variety of tasks and improve on skills no matter the experience level. With different sizes and styles of boards, Lifeguard Master offers kickboards that are perfect for any swimmer at any age.
Lifeguard Master has been in the emergency and life saving industry for many years. Sammy, the owner and founder of Lifeguard Master has been a lifeguard himself for 7 years. He knows the importance have having all the equipment readily available for a first responder, and through the years Lifeguard Master has become a robust lifeguard supply and lifeguard store company, accommodating the anticipating needs of first responders around the country and around the world. Lifeguard Masters determination to excellence and rescue safety has quickly made it a leader in its industry. For more information, please give us a call, send us an e-mail or visit our website. Also to stay updated with the latest news in emergency supplies, please visit our forum where rescue professionals from around the country and world stay connect, and post the latest emergency news at LifeguardsOnline.com.
Sammy
Lifeguard Master
(714) 605-3090
http://www.LifeguardMaster.com