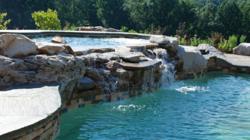 San Antonio, TX (PRWEB) July 08, 2013
On Time Elmer Swimming Pool Company details the top four pool accessories for the summer.
When the summertime heat settles in, everyone knows the fun that can be had with add-ons in the pool like diving boards and volleyball nets.
On Time Elmer Swimming Pool Co. details some of their favorite in-pool and poolside accessories for this summer season.
If pool goers want to soak up some sun or enjoy a good book by the pool in comfort and style, check out the Splash Chaise Lounge and Pool Floater. This attractive poolside furniture doubles as a floating lounge when taking it into the pool. They fold away for easy transportation and storage, and come ready-to-use in the box. If the kids are tired of the generic drugstore brought pool toys such as the ubiquitous foam noodle, why not give the AquaMaster Inflatable Jet Ski a try? It takes the thrill of a jet ski, and brings it home to the backyard pool. A motor propels the inflatable likeness of a Sea-Doo jet ski through the water at 2.5 km/hr (1.55 mph). This speed perfectly bridges the gap between safety and fun.
Outdoor-oriented ECOXGEAR makes a series of long lasting, Bluetooth enabled and waterproof speakers for any outdoor occasion. They even have a built-in speakerphones to answer phone calls without worrying about dropping that brand new smart phone in the pool or getting it wet.
In addition to the fun accessories that can improve the overall swimming and pool lounging experience, it's important not to forget proper pool maintenance. Along with the other important prep work, like chlorine protection and evaporation control, assembling a dream team on pool and poolside accessories is a great way to get another swimming pool season started. On Time Elmer Swimming Pool Company has everything under the sun. For more information, visit their website at http://www.elmerpools.com.
About the company:
On Time Elmer Swimming Pool Company is a swimming pool contractor that believes a high level of integrity and remarkable service makes them one of the best pool companies in San Antonio. Led by Dominick Pizzuto, the team has 25 years of knowledge and experience. They are confident in their ability to deliver outstanding quality, and can handle any residential and commercial pool request. They offer fiberglass pools, pool plastering, pool remodeling and swimming pool renovations, pool tile repair, and more. The technicians are known as the "pool guys in the pink trucks." Why Pink Trucks? Elmer's mother lost her battle against cancer in 2008. She stood for respect, integrity, honesty and generosity. In her honor of her spirit the trucks were painted pink. In honor of her caring nature Elmer Pools set aside a portion of profits to support community organizations that provide assistance to women, children, and families.
Rest assured that when referring Elmer Pools to friends and family, they will never do anything to lose the trust customers have in them. Elmer Pools always offers complimentary consultation services. Feel free to call (210) 255-2252 for more information.