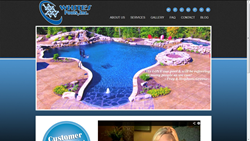 We aim for customer satisfaction and do every little bit possible to build pools that are not only of greatest quality, brilliant in design but also fit well with the vicinity
Loganville, GA (PRWEB) May 23, 2014
White's Pools Inc. is based in Georgia, US and is one of the best pool builders of the area. An experienced, efficient and expert pool builder, James White owns White's Pools Inc. that has earned great reputation over the years to build pools that are not only rich in design and hold great architectural value but also has top-end quality. The pools that the company creates also gel well with the surroundings. White's Pools Inc. has so far successfully created pools for homeowners, hotels and other clients and it is famous for building excellent quality pools that feature unique designs and shapes that fit its surroundings the best.
Talking about the values and way of creating pools, the owner of the company told us during an interview recently, "We aim for customer satisfaction and do every little bit possible to build pools that are not only of greatest quality, brilliant in design but also fit well with the vicinity. As a result, our slogan is 'guided by ethics, driven by quality' and we stick to it no matter come the strong winds or high water. We use the unparalleled methods of customization and the quality of our work speaks for itself."
Apart from creating great custom swimming pools, White's Pools Inc. also does the installation job of pools; service and maintenance work as well as takes landscaping projects for outdoors and recreational environments. On the top of this, the company has the formidable reputation for building the best in class swimming pools without missing a single deadline.
James White further told us during the interview, "We are a third generation swimming pool builders with great expertise to construct award winning pools and spas in Georgia. If any of you are looking for reputed, experienced, efficient, adroit and expert swimming pool Construction Company in Atlanta, you are on the right page. We are the undisputed leader of the industry and not only ensure that we construct swimming pools as per customer specification but also meet customer's lifestyle needs with quality construction and custom designs."
The company uses latest technology, modern equipment and products to adroitly design and build luxury swimming pools for the customer's home, hotel or club. Be it indoor, backyard, infinity, lap, lagoon or rock pools, White's Pools Inc. has enough experience to meet customer's requirements efficiently. If you wish to create custom swimming pools Atlanta and looking for the best company to do the job, your search ends here. Click on the link here for more details. You can also visit their official website to know more about swimming pool construction in Atlanta.
About White's Pools Inc
Based in the US state of Georgia, White's Pools Inc. is owned by James White who has great experience, efficiency, knowledge and expertise to build top-end quality swimming pools in Atlanta, GA. The owner formed White's Pools Inc. on a rare value system that asks for the highest standards and that remains the cornerstone for the success of the company today. The company has earned great reputation over the years to build pools with unique custom methods and unparalleled efficiency for the utmost customer satisfaction. If you also want to build a unique pool and looking for a reliable as well as experienced swimming pool contractor Atlanta, your search ends here. Just follow the link here for more details: http://whitespools.com/.
Contact details:
White's Pools, Inc.
1001 Karlee Blvd.
Loganville, GA. 30052
Call: (770) 466-2376
Web: http://whitespools.com/