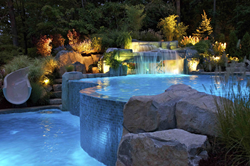 Obviously the best safety measure is to pee in the appropriate place, the bathroom!
Bergen County, Northern NJ (PRWEB) April 04, 2014
A recent study by the China Agricultural University and Purdue University revealed that 1 in every 5 adults has admitted to peeing in a swimming pool. Most people believe that the chlorine in the pool will simply neutralize the urine and everyone will be fine. This is not necessarily the case. What's more alarming about the study is that when uric acid, a byproduct of urine, combines with chlorine it creates a new chemical called cyanogen chloride. Cyanogen chloride is a gas that when inhaled can be harmful to the central nervous system, heart and lungs. Healthline News says that cyanogen chloride is a schedule 3 controlled substance by the U.S. Chemical Weapons Convention due to the potential in being used in chemical warfare.
The WHO (World Health Organization) recommends that the maximum concentration of cyanogen chloride be 70 milligrams per liter or less for drinking water. The highest concentration the study observed was 33 milligrams per liter at 8 milligrams per liter of chlorine, which is a much higher concentration of chlorine than is found in the average pool. This is still deemed safe by the WHO revealing that there is no imminent threat of poisoning while peeing in the pool. Never the less, doing so adversely affects water and air quality and should be avoided as much as possible especially for indoor swimming pools because of the enclosed room.
The study only polled adults, but it can be assumed that the percentage of children who pee in a swimming pool is higher than the 20% of the adults who do. Homeowners may be wondering how they can protect themselves when having a large amount of bathers in their swimming pool? When hosting a large party over the summer with a lot of children, Chris Cipriano, President of Cipriano Landscape Design has some recommendations. "The best way you can prepare is to make sure your pool is running at its maximum sanitation level when the party starts. In order to ensure this, I recommend running your filtration system for 48 hours prior to the party to allow your pool to turnover several times." He continues, "If the pool is running at the maximum sanitization level it will be better prepared to handle the party." Turnover refers to how long it takes to filter all of the swimming pools water through the filtration system.
After the party is over Cipriano would also recommend running the filtration for another 48 hours to filter any contaminants that may have entered the water and also slightly increasing the amount of chlorine in the pool to help with the decontamination process. People have been safely using swimming pools for centuries so this isn't meant to scare anyone but rather provide some advice to keep a swimming pool as clean as possible. Obviously the best safety measure is to pee in the appropriate place, the bathroom, but these are some good precautionary measures that can be taken when planning a large party.
Celebrating 25 years in business, 15-time international award winner Cipriano Landscape Design distinguishes themselves from all other swimming pool & landscaping companies with their extensive design and construction experience. As a recognized national leader in custom residential & commercial landscaping, masonry and swimming pools, the Mahwah NJ firm has been offering complete estate transformations since 2001. With a design office headed by Certified NJ Landscape Architect William Moore, the Cipriano team has won 75 awards of excellence since 2006 and in 2013 was named by Pool And Spa News to their "Top 50 Pool Builders" list.
Visit http://www.njcustomswimmingpools.com for more information.