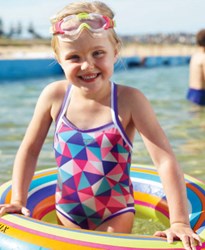 February is a big month for children's swimwear, be it for babies and toddlers or kids in school...
Melbourne, VIC (PRWEB) February 06, 2014
In Australia, the end of January marks the start of popular swim carnivals, as well as signals the moment when many mums get the time to take their toddlers to the local pool. Because this time of year is so popular for youth swimming lessons and competitions, Victorian-based retailer Swimwear Galore is providing some helpful tips on how to pick the right swimsuit for toddlers learning to swim as well as those entering in competitions. Marketing Manager Mrs. Caz Skudar explains, "February is a big month for children's swimwear, be it for babies and toddlers or kids in school, we get lot of demand for help this time of year."
Whether it's for a toddler's first dip in the pool or for a trained school swimming squad, finding the right swimsuit for children isn't as easy as it may first appear. With many factors needed to be taken into consideration, such as style, comfort, durability and sun safety; a long-time beach attire retailer decided to reveal a few tips to make the job easier.
With over thirty years of supplying a wide variety of swim and beachwear to Australians, Swimwear Galore are well and truly considered leaders in the industry. This means that "providing advice on what the best swimsuits are for school kids and learning to swim toddlers just comes naturally," says Mrs. Skudar.
"School term 1 in Victoria is when all the school swim carnivals are on," continues the Marketing Manager, "so we get a lot of squad kids and parents coming in to pick out the right suit." She says that given Australia's love for the beach, "Swim carnivals are part and parcel of a young person's life. Getting the perfect swimsuit is pivotal to performance."
She further explains that, although very different, the importance of selecting the best swim gear carries over to toddlers learning to swim, "February is a big month for the learn to swim toddlers, too." Mrs. Skudar says it's this influx of interest that's caused Swimwear Galore to decide to offer some key tips on choosing the right swimsuit for one's child.
Firstly she says, picking "a trendy design nearly tops the list, even though it's not necessarily the most important factor. If children don't like the look of their swimsuit, they simply won't wear it." She then says that Swimwear Galore only offer the latest in fashionable children's designs, "so picking from our selection makes this first part easy."
Next up is comfort, which is highly important when picking the right swimsuit for toddlers learning to swim and for older school children. "It's important the piece fits snug, but isn't too tight. Pinching and pulling of skin from a swimsuit is a sure-fire way to make the process of swimming a whole lot harder." Mrs. Skudar further explains the texture and softness of the swimsuit plays a major part in ensuring it's a comfortable match to a child.
She then advises that parents need to "look for durability in what they purchase. It's important that any swimsuit which will get serious wear and tear needs to be well made. So buy from a reputable company like ours who guarantee quality and satisfaction."
Mrs. Skudar then reveals her last tip, "and this is probably one of the most important – sun safety." For children who will be out of doors during their swim competitions or lessons, "it's vital the swimsuit they select has inbuilt UV protection to help minimise any damage from the sun. If a parent is unsure, they simply must ask. This is a key component that should not be overlooked."
With the increase of swimming activity among school kids now, as well as being one of the busiest times for toddlers learning to swim, Swimwear Galore has revealed their top tips on how to select the best swimsuit for little ones. Naming trendiness, comfort, durability and sun safety as the top elements to look for in all pieces, the company's Marketing Manager "hopes this helps parents in selecting the right swimsuit that will give their children a lot of joy for the entire season." The popular swimsuit and beachwear supplier offers a large selection of products, including infant, children, teen, men's and women's swimwear, along with maternity and plus-size options. For more information, visit their children's swimsuit section online or any of their retail locations in Cheltenham, Malvern, Fitzroy, Geelong, Sorrento and Mornington.
About Swimwear Galore
Swimwear Galore began 30 years ago with just one small rack of garments in a family owned fabric shop. Since then, it has become Australia's largest swimwear retailer, offering the latest trends and over 70 of the world's leading brands all year round.
The key to their success is recognising that every "body" is different, and that every "body" is beautiful, which ensures they cater for all shapes and sizes that provides the most options for the entire family. To learn more about Swimwear Galore, click here.