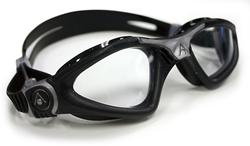 Perfect goggles for competition or training
Los Angeles, CA (PRWEB) March 24, 2015
Many people take swim goggles for granted. However, seasoned swimmers usually carry multiple pairs of swim goggles with them as they are incredibly important to a competitor. Whether it be training or competition, a swimmer does not want anything to get in the way of his or her goal. In the past, water leaking and fogging have been a constant problem with competition and training goggles. Lifeguard Master now has two exceptional pairs of swim goggles in their new line available for purchase, so eyes can remain clear and protected during competition or training.
It is incredibly important to protect the eyes when swimming in a chlorine filled pool. With some competition sized swimming pools located indoors, the Clear Swim Goggles from Lifeguard Master will work both in indoor and outdoor settings.
These Clear Lens Goggles are available in three colors: transparent, blue, and black. These clear lenses provide the greatest visibility indoors or in low light. With an anatomic profile with watertight seal, these Clear Lens Goggles are created from soft, comfortable, and hypoallergenic Softeril material, so even those with allergies or sensitive skin can use them. These swim team goggles also provide 100 percent UVA and UVB protection and have a scratch-resistant and anti-fog coating.
These goggles also have an easy to adjust buckle system for a custom fit for every wear. The Plexisol lens allows for clear and visible sight when wearing them along with amazing 180-degree distortion-free visibility. With an amazing design and great features, these swim goggles are great for swimmers beginning and experienced. To view this style of goggle online, please click here.
Swim team and competition swimmers need goggles that are clear, comfortable, and strong. They need something that is not going to fog up on them. The next pair of swim goggles offered by Lifeguard Master perform indoors or outdoors and in chlorinated or natural settings.
The Slim Competition Swim Goggles have a clear lens and are designed to provide the greatest visibility indoors or in low light. These goggles have a curved lens technology that gives the wearer 180-degree field of vision with no distortion. The super slim microframe keeps these goggles incredibly close to the face for superior, low-drag hydrodynamic performance.
Made from a one-piece, hydrodynamic microframe made of hypoallergenic Softeril, even those with sensitive skin or allergies can wear these goggles. The goggles offer 100-percent UVA and UVB protection and also have an anti-fog and scratch-resistant lens for long lasting visibility and incredible vision. These goggles come in a variety of color combinations for a fun and easily identifiable look.
The silicone strap provides extreme comfort and durability for a custom fit for every wear. The one-touch quick-fit buckle also allows for a perfect fit with simple adjustments, even while wearing the swim team and competition goggles. A stabilizing nose bridge allows for a secure and comfortable fit against the face.
Whether someone is a beginning swimmer or an experienced swimmer, goggles help protect eyes so they work outside of the water. Since swimming water can contain harmful debris or chemicals for sanitation purposes, it is important to wear goggles to protect eyes. When swimming, it is important to be able to see since most of the time someone's head or face is in the water, which is where goggles become so important. No matter if someone is a lifeguard, diver, swimmer, or just going to the beach for some fun; swim goggles can help protect and preserve a person's eyes and vision for years. To view these goggles on line, please click on http://www.lifeguardmaster.com/SWIM-GOGGLES
Lifeguard Master has been in the emergency and life saving industry for many years. Sammy, the owner and founder of Lifeguard Master has been a lifeguard himself for 7 years. He knows the importance have having all the equipment readily available for a first responder, and through the years Lifeguard Master has become a robust lifeguard supply and lifeguard store company, accommodating the anticipating needs of first responders around the country and around the world. Lifeguard Masters determination to excellence and rescue safety has quickly made it a leader in its industry. For more information, please give us a call, send us an e-mail or visit our website. Also to stay updated with the latest news in emergency supplies, please visit our forum where rescue professionals from around the country and world stay connect, and post the latest emergency news at LifeguardsOnline.com.
Sammy
Lifeguard Master
(714) 605-3090
http://www.LifeguardMaster.com