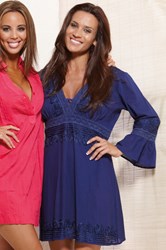 Covering up is one of the best ways to reduce exposure to UV radiation
Melbourne, VIC (PRWEB) September 16, 2013
Every year a campaign is launched by The Melanoma Institute Australia to increase public awareness about the dangers of skin cancer through sun exposure. The cause was initiated earlier in September with the popular National Shade Day event. One of Australia's largest beachwear retailers Swimwear Galore is doing their bit to support the cause by suggesting cover up swimwear and accessories to their customers. The company's Marketing Manager Mrs. Caz Skudar remarks about awareness initiative, "September starts giving people glimpses of spring weather and since Australian's love the sun, they head straight outdoors as soon as they can. But prolonged sun exposure has caused the country to see cancer rates increase year on year, so an awareness program like this is a great initiative. I hope everybody listens and spreads the word."
Being renowned as having the highest incidents of melanoma in the world, Australian health organisations continuously try and educate people to protect themselves as spring and summer approach each year. Reducing the alarming cancer rates can be as simple as staying in the shade and covering up, but the country's challenge is on how to inform everyone of those potentially life-saving hints.
Long-time Victorian retailer Swimwear Galore start to see their customer numbers increase around this time each year and plan to do their bit with cancer awareness. Whenever possible, they take the opportunity to recommend cover up swimwear and accessories to their patrons.
Ms. Skudar explains that since Australian's are avid sun lovers, it's important that businesses like hers play a part in reducing their customers' risks of developing melanoma. One of the ways to help is by offering a wide variety of beachwear for women, men, children, expectant mothers, and plus-sizes. The marketing manager says "We provide an incredible range of swim and beachwear, as well as accessories and cover up pieces for every member of the family so no one's left out."
One of the key components in protecting against dangerous ultra-violet radiation is by wearing garments and accessories to shade skin from the sun. "Whether just going out with friends for a stroll, or taking the entire family on a holiday, people need to ensure they pack beach friendly, yet sun protective, pieces into their bags. Covering up is one of the best ways to reduce exposure to UV radiation."
Swimwear Galore has been supplying Australian's for three decades with top quality swimwear and outdoor clothing. This year they have a particularly large selection of head wear "from floppy hats, shade caps, visors to cowboy hats, we've got something to shade heads and necks from the sun." The company also offers a wide range of cover up swimwear pieces for men and women of all ages; including smocks, skirted briefs, sarongs, sun tops, kaftans, dresses and more.
With each store receiving new arrivals regularly leading up to the holiday season, Swimwear Galore "helps support the melanoma awareness campaign as well as allow customers the ability to maintain a fashionable appearance." Ms. Skudar is really proud that each location is able to provide the necessary sun protection gear needed, "we're the quintessential one-stop-shop for all sun lovers. Whether it's a sun protection piece, something to disguise trouble areas, or to accentuate one's shape, Swimwear Galore has it all."
On the first Friday of September, The Melanoma Institute Australia began their month long mission to raise awareness about skin cancer. Swimwear Galore is helping spread the word by advising customers to include cover up swimwear pieces in their bags when headed outdoors. The state-wide stores stock all the latest fashionable and sun protective pieces and can cater for all body types including, maternity, mastectomy, plus-size, women's, men's, girl's and boy's wear. What's more, Australian's can purchase their cover up beachwear online, or at any one of their outlets in metro Melbourne: Fitzroy, Cheltenham, Sorrento, Malvern, Geelong and Mornington. To view their entire range or to locate the closest outlet, visit: http://www.swimweargalore.com.au.
About Swimwear Galore
Swimwear Galore began 30 years ago with just one small rack of garments in a family owned fabric shop. Since then, it has become Australia's largest swimwear retailer, offering the latest trends and over 70 of the world's leading brands all year round.
The key to their success is recognising that every 'body' is different, and that every 'body' is beautiful, which ensures they cater for all shapes and sizes that provides the most options for the entire family. To learn more about Swimwear Galore, click here.