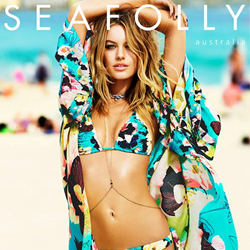 these pieces will set the stage for the rest of this year – colourful, classic, alluring and beautiful
Melbourne, VIC (PRWEB) March 27, 2014
It was about 30 years ago when a family owned fabric shop decided to sell a small selection of swimwear from their humble outlet. Decades on and still family owned, Swimwear Galore is now Victoria's largest beachwear retailer and is often leading the industry with their fashionable stock. The popular retailer has just launched the Seafolly Kabuki Bloom range in their stores and online. Marketing Manager Mrs. Caz Skudar adds, "The exotic designs are fresh yet timeless. Kabuki Bloom pieces come in either blue or pink floral themes."
Staying on the leading edge of fashion is a challenge for retailers around the world. Many businesses don't know all the ins and outs of the industry, let alone understand what's on trend for the season.
With decades of experience in providing a wide variety of the trendiest swim and beachwear to Australians, this isn't an issue Swimwear Galore is ever faced with. Their longevity in the swimwear market means "we naturally know what our customers want and can see what's going to be hot coming up" says Mrs. Skudar.
Taking inspiration from 'Kabuki', a popular type of drama from Japan developed around the 17th century; Seafolly's Kabuki Bloom is the first range to be released from their 2014 preview range.
"The Kabuki range is going to be incredibly popular" continues the Marketing Manager, "because it's visual appeal has been pulled from the elaborate costuming of Japanese Kabuki styles." She further explains that "the floral prints are large and contrast with the rich background colours. There's no doubt these pieces have both a touch of the exotic and class in them."
She further says the Kabuki Bloom selection offers two-piece sets, single-piece swimsuits, as well as a long maxi dress and a slinky kimono robe. "The range really allows the wearer to decide how much or little they want to cover up." Mrs. Skudar then explains that each piece has a variety of large Kabuki flower blooms over a rich pink or blue background.
Mrs. Skudar remarks that the pieces are very on trend this season, can be worn with or without the complementary accessories, "yet if any element of the Kabuki Bloom range is combined with the Patsy Kimono, the outfit turns into an irresistible slice of the orient."
Swimwear Galore's Marketing Manager then announces that the new Seafolly Kabuki Bloom range has been launched in all their retail outlets across Victoria, as well as in their online store. She urges anyone looking for a timeless, quality piece to order now because "it's set to turn heads and is going to be very popular. I'd recommend those interested in the release – to get their Kabuki Bloom swimwear before it's gone."
Swimwear Galore has just released the first of Seafolly's many ranges called Kabuki Bloom. Being able to easily spot industry trends, the company's Marketing Manager remarks that "these pieces will set the stage for the rest of this year – colourful, classic, alluring and beautiful." Australia's popular swimsuit and beachwear supplier not only offers Seafolly's Kabuki Bloom range, but a large selection of infant, children, teen, men's and women's swimwear, along with maternity and plus-size options. For more information, visit their online store or any of their retail locations in Cheltenham, Malvern, Fitzroy, Geelong, Sorrento and Mornington.
About Swimwear Galore
Swimwear Galore began 30 years ago with just one small rack of garments in a family owned fabric shop. Since then, it has become Australia's largest swimwear retailer, offering the latest trends and over 70 of the world's leading brands all year round.
The key to their success is recognising that every 'body' is different, and that every 'body' is beautiful, which ensures they cater for all shapes and sizes that provides the most options for the entire family. To learn more about Swimwear Galore, click here.