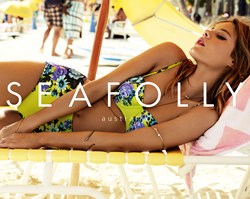 We're the ultimate one-stop-shop for anyone looking for beachwear and accessories
Melbourne, VIC (PRWEB) August 26, 2013
On 16 August 2013, the renowned Australian bathing suit retailer Swimwear Galore revealed their latest range of stock for the anticipated warmer weather. Beach lovers eager to secure the latest in trendy swimwear have flocked to the stores and online shop, potentially making this month the retailer's busiest for the year. The long-time beachwear company's Marketing Manager Mrs. Caz Skudar says of the latest product launch, "We've been receiving our summer range of stock and the best pieces always go first, which is why the customer response has been so amazing."
Sun lovers become excited when the first signs of warmer weather appear. One of those signals is when retail shops start adorning their windows and websites with clothing for summertime. Eager to welcome the change in cooler temperatures, serious beach fans take this queue and start purchasing pieces for summer. The only downfall is that anyone arriving afterwards may not get to choose from the best selection.
Thankfully Swimwear Galore's newest collection of beachwear has just launched and bolstered the selection available at their retail locations and online store. The swimsuit experts have fully stocked their stores with the latest in trendy swimwear, including pieces for men, women, children, expectant parents, plus-sizes and everyone else in between.
Although amply supplied and prepared for their loyal customers, the quick reaction to Swimwear Galore's latest range has made the retailer think "this could be our busiest month this year!" Mrs. Skudar further explains by saying "August is the month we receive all our new stock for summer, so it's the best time to get the latest styles and prints."
With nearly three decades of experience providing Australia with the best range in swimsuits and accessories, this year's summer collection has stood out to the marketing manager, "Our 2013 stock is really playful. It's inspired by an 'Island Getaway' theme, which is full of tribal mix & match pieces."
The company's 2013 assortment is full of bright colours and funky patterns, and also features the latest in flattering swimwear fashion called the 'tummy disguising Tankini'. What makes the summer range even more appealing is Swimwear Galore's ability to provide such a wide choice of options for their customers, "whether it's buying separates for the best fit or just getting a bather that actually suits your current body shape – be it from infancy to hiding trouble areas – we're the ultimate one-stop-shop for anyone looking for beachwear and accessories."
Mrs. Skudar continues, "We Australian's are a sun loving nation, we want to be comfortable as well as fashionable, and that's what our stores offer." What's more, to add ease to their customer experience Swimwear Galore's online shop provides free express shipping on all orders over $100 as well as hassle-free returns and exchanges. "With us, it's all about making shopping for beachwear fun and easy, and now is the time to pick up the best pieces for summer" says the company's marketing manager.
Just recently the legendary beachwear retailer Swimwear Galore have unveiled the latest range of stock for the upcoming summer season. The response to the vibrant colours and flattering styles has made the company believe August may soon become their busiest month this year. Each Swimwear Galore store is now stocking the latest in trendy swimwear for all body types including, maternity, mastectomy, plus-size, women's, men's, girl's and boy's options.
In addition to a second-to-none selection of swimsuits and bathers online, they also have outlets positioned all over metro Melbourne: Fitzroy, Cheltenham, Sorrento, Malvern, Geelong and Mornington. For more the details about their most recent summer range or to locate the closest outlet, visit: http://www.swimweargalore.com.au or watch product teaser videos on their YouTube Channel.
About Swimwear Galore
Swimwear Galore began 30 years ago with just one small rack of garments in a family owned fabric shop. Since then, it has become Australia's largest swimwear retailer, offering the latest trends and over 70 of the world's leading brands all year round.
The key to their success is recognising that every 'body' is different, and that every 'body' is beautiful, which ensures they cater for all shapes and sizes that provides the most options for the entire family. To learn more about Swimwear Galore, click here.