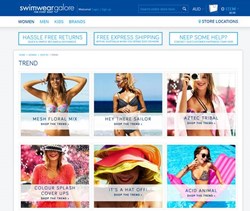 For us, it's always been 'customers first' – so we've been really excited about this relaunch and are thrilled to see how well our customers are responding to it.
Melbourne, VIC (PRWEB) December 05, 2013
Just recently the trendy beachwear retailer Swimwear Galore completely redesigned and relaunched their website. The new online store enhances user experience with easier navigation to locate the ideal swimwear for their body type. Mrs. Caz Skudar, the Marketing Manager of the renowned Australian company, remarks that the revamp has already created a boost to their regular orders, "We can tell our customers are enjoying the new site because sales have increased since the relaunch. We're also noticing a lot of multiple item orders which indicate the holiday shoppers are also finding our site easy to use."
Some time ago, the development team at Swimwear Galore recognized the difficulties their customers faced when trying to locate swim attire online. Well known for their high level of customer service and generous free shipping options, it came as no surprise to customers when the company undertook the challenge to make their online shopping experience even easier.
Many months on, the Victorian swimwear superstore completely innovated and relaunched their website. With improved search methods, combined with a wide variety of swimwear for the entire family, as well as the most popular beach accessories, customers are ordering more than before. Extremely proud of leading the way in their industry with the sleek new site, Mrs. Skudar says "For us, it's always been 'customers first' – so we've been really excited about this relaunch and are thrilled to see how well our customers are responding to it."
She goes on to explain one of the more exciting aspects of the new site is the "shop by catalogue function, which is a totally new concept in swimwear shopping online. We let customers browse through the big brand catalogues within our site, then they can purchase directly from that particular catalogue - through us." Mrs. Skudar says this enables customers to get exactly what they want in the event their desired style or size isn't stocked in-store or online.
For those more conscious about wearing the most popular styles for the season, the site also offers the ability to shop by the latest trends as scouted out by the company's in-house fashion team. The site also includes a previous customer favourite; a feature which has now been upgraded, called Shop By Shape, "which is an absolute hit with everyone who uses it. What we've done here at Swimwear Galore is identified the six most common body issues and provide the ideal swimwear matches for those body shapes. We save our customers a lot of search time with this feature."
Mrs. Skudar then mentions that a further enhancement is due to be released soon, "the Mix & Match separates feature will allow visual transparency for shoppers. They'll see all their separates selections at the bottom of the screen and be able to work out what the best combination is for them." Once this feature goes live, it will complete the website's transformation.
All of the recent improvements at Swimwear Galore's website have created a positive response for the retailer; they have noticed a significant rise in orders since their relaunch. The marketing manager also notes the increase in orders includes holiday gift shopping sales, "because we offer hassle-free returns and exchanges, we make Christmas gift shopping really easy and completely risk free. So combine that with the easier navigation, it's no wonder the orders have spiked." The beachwear supplier offers a large selection of products such as infant, children, teen, men's and women's swimwear, as well as maternity and plus-size options. Their extensive range can be viewed at any of their locations in Cheltenham, Malvern, Fitzroy, Geelong, Sorrento and Mornington or visit the relaunched site here.
About Swimwear Galore
Swimwear Galore began 30 years ago with just one small rack of garments in a family owned fabric shop. Since then, it has become Australia's largest swimwear retailer, offering the latest trends and over 70 of the world's leading brands all year round.
The key to their success is recognising that every 'body' is different, and that every 'body' is beautiful, which ensures they cater for all shapes and sizes that provides the most options for the entire family. To learn more about Swimwear Galore, click here.