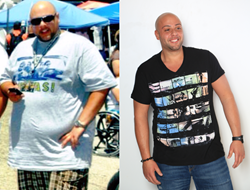 Fort Lauderdale, FL (PRWEB) August 19, 2013
Swole® Sports Nutrition, a South Florida based sports nutrition and dietary supplement company is proud to announce a partnership with Jerry Gialanella, also known as "Big Jerry" from the hit MTV reality show "The Pauly D Project". This will form an exciting alliance between an inspirational spokesperson with an incredible story and one of the most innovative sports nutrition companies in the industry. Together, they look to spread awareness and inspire others dealing with obesity.
Jerry started his transition to a healthy lifestyle following Thanksgiving of November 2010. After Jerry's first year of dieting and exercise, he encountered a weight loss plateau that many people struggle with. At this time, he came in contact with Swole Sports Nutrition who immediately became a support system, helping him to conquer his health and fitness goals. As his journey continued, it became clear that it was a natural fit for Swole and "Big Jerry" to team up and spread the word of his inspirational story as well as educate millions of people. Through this exciting partnership, a key focus will be on developing supplements aiming to help others who suffer from obesity and offer a comprehensive approach to deal with the many facets of the weight loss process.
After years of struggling with his weight, Jerry has spent the last two and a half years taking control over his body, managing to lose an incredible 185lbs with the goal of dropping from 425lbs to 225lbs. When Big Jerry started his journey, he was on the road touring as head of security with one of the biggest entertainers in show business and now has taken an even bigger role as Tour Manager. This means he's on call 24/7 and life on the road is hard enough and can take a toll on your body but Jerry wasn't letting up. With SWOLE's help, he is determined to show the world that anybody can live a healthy lifestyle regardless of any obstacles that stand in your way. Big Jerry feels his story and routines can help with America's obesity crisis and create real change within families that search for this kind of help. He is an inspiration and an advocate of health and together with SWOLE it is now even more possible to change people's lives.
"During the first year of my weight loss, cardio was my choice of exercise. It was tough to see the light at the end of the tunnel being so obese. When I started strength training, I noticed my muscles increasing but my weight plateaued so I looked into supplements to help me get over the hump. At this time, I happened to meet Bryan (Shetsky) who introduced me to the Swole nutrition line. By adding the Swole products to my regimen, I was able to continue reaching my training goals which made me a huge fan. Bryan and I had kept in touch and as our friendship grew, the thought of us partnering together became a better idea and an even better reality. Now, we have major plans for the future and I am excited for what's coming next." – Jerry Gialanella
"When looking for the next major area to focus on, we knew that obesity is an issue that affects millions of people worldwide. When we met Jerry, we were immediately impressed by his journey and even more so by his determination and desire to help others. As our relationship grew, we realized that together, we can make a significant impact on a major level by developing awareness campaigns as well as products specifically designed to help others in Jerry's situation." – Swole Sports Nutrition
Swole® Sports Nutrition is a rapidly expanding sports nutrition and supplement company that has quickly become one of the most exciting brands on the market. With multiple product lines supported by both National and International distribution, their strategy has been to develop products that can deliver the high quality results that athletes need, but are formulated for use by a broad spectrum of people, regardless of training level or experience. After receiving phenomenal feedback on their nutritional products, SWOLE is also focused on expanding their brand's presence in the marketplace, as well as their apparel lines and athlete team. For more information on Swole Sports Nutrition, please visit http://www.swolesports.com. You can also follow online at http://www.facebook.com/swolesports, and http://www.twitter.com/swolesports.