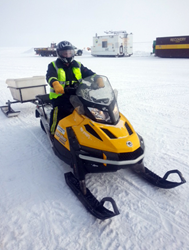 This type of extreme cold weather training illustrates our commitment to being a leader in emergency spill response no matter the conditions
Prudhoe Bay, Alaska (PRWEB) April 08, 2015
When a spill happens, the location may be in any climb and place. Thick, snow covered ice combined with wind chills of -22 degrees Fahrenheit make oil recovery extremely difficult. SWS Environmental Services (SWSES) recently sent a small response team to join personnel from Alaska Clean Seas, "a non-profit, incorporated oil spill response cooperative," for Alaska North Slope Spill Response training.
Average temperatures for March hover around -12 degrees Fahrenheit, near Prudhoe Bay, Alaska, where training takes place. Specialized training is needed to be able to properly, effectively and efficiently respond and remove oil from beneath the ice. The team, led by Ken "KC" Straub, Emergency Response Manager for SWSES, was on site and learned various techniques.
Cold weather responses are much different than those in warm, open weather locations. During the training, the team was taught how to properly locate the oil located under the ice. They were introduced to different equipment while expanding their current knowledge of spill responses. The team from Alaska Clean Seas covered techniques used to search and detect oil from under the ice. Not only does the team have to be able to locate it, they need to understand tactics for recovery. This included cutting recovery trenches in the ice using saws and setting up oil recovery systems within the trenches.
"This has given us another tool in our response services toolbox that we can use in the event of an oil spill on, and/or under the ice," explained Straub when asked about the benefits from attending a training event like this.
Biff Raymond, Director of Emergency Response stated, "this type of extreme cold weather training illustrates our commitment to being a leader in emergency spill response no matter the conditions."
For more information on how SWSES can assist please reach out by visiting http://www.swsenvironmental.com, or email any questions or inquiries to info(at)swsenvironmental(dot)com.
About SWSES:
SWSES is one of the largest, most diverse, and strategically positioned environmental services companies in the United States. Currently operating from 29 locations across Alabama, Florida, Georgia, Kentucky, Louisiana, North Carolina, Ohio, Tennessee, and Texas, our service centers are equipped and ready to respond 24 hours a day, 7 days a week. Whether it's an emergency spill response, industrial services need, hazardous or non-hazardous waste issue, or complex remediation project, contact us at the location nearest you. 24-Hour Emergency Response: 877.742.4215