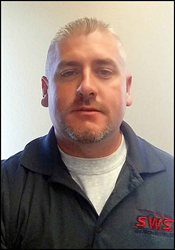 Billy Flagel has an outstanding reputation as one of the most knowledgeable and hardest working emergency response professionals in the industry.
Houston, TX (PRWEB) May 05, 2015
SWS Environmental Services announced today that Billy Flagel has joined the company as a director of emergency response covering the west region. His area of responsibility is the Fort Worth, San Antonio, Kilgore, Houston and Baton Rouge service centers.
Billy brings with him 18 years of experience in the environmental industry making him a valuable asset to the company overall, but specifically its emergency response division. He previously worked with a variety of environmental companies over the years where he was instrumental in hazardous materials transfers, rail car emergencies, highway emergencies, EPA projects, complex site remediation, oil spills and other significant events.
Training and certifications are critical in a role like this and Billy is short on neither of them. Along with standard OSHA HAZWOPER training, Billy also has many years of additional certifications and training such as ICS, Hazardous Materials Highway Specialist Training, First Responder Awareness and Operations Training, Radiation Safety Officer Training, and NRC Training for Oil Spills. He is also an NCCER Certified Hydroblaster.
Harry Marsh, Vice President of Operations at SWS Environmental Services, said, "Billy Flagel has an outstanding reputation as one of the most knowledgeable and hardest working emergency response professionals in the industry. I cannot wait to see what he brings to the company and through us, to the emergency response field."
Billy has stepped into his new role with enthusiasm and commitment to continue the growing success of SWSES throughout the west region. He commented, "With my previous experience, professional resources and SWSES's commitment to service, I am confident we will be able to provide the highest level of excellence and quality of service to our clients."
About SWSES:
SWSES is one of the largest, most diverse, and strategically positioned environmental services companies in the United States. Currently operating from 29 locations across Alabama, Florida, Georgia, Kentucky, Louisiana, North Carolina, Ohio, Tennessee, and Texas, our service centers are equipped and ready to respond 24 hours a day, 7 days a week. Whether it's an emergency spill response, industrial services need, hazardous or non-hazardous waste issue, or complex remediation project, contact us at the location nearest you. 24-Hour Emergency Response: 877.742.4215